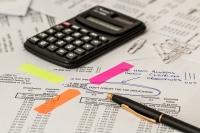 Tax Resources and More!
The Metropolitan Library System is here to help make this tax season a little less stressful! 
Check out our Income Tax Resources page for access to:
Visit any Metropolitan Library location to have us print free federal and state tax forms for you.
We also have a variety of print and eBooks to help you prepare your taxes this year!  
Disclaimer: Please note that Metropolitan Library System staff are neither tax experts nor tax advisors. Consult IRS.gov for the most up-to-date tax information.
After filing your taxes, you might be looking for ways to become more financially fit this year! Look no further than your favorite library system for a wide variety of print and digital resources to help set you, your family, or your small business up for success for years to come.
Books and eBooks @ Your Library
Databases @ Your Library
Digital Magazines @ Your Library