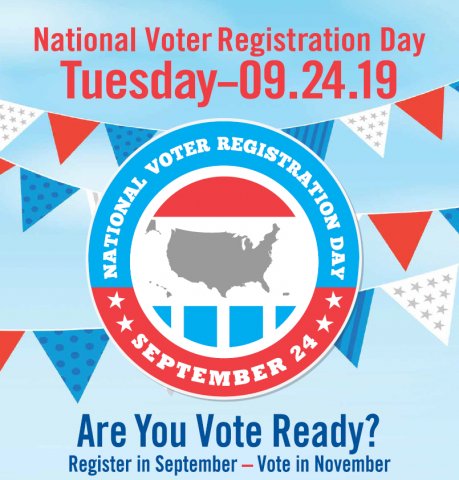 Voter Registration Day
September 24 is Voter Registration Day! This is your opportunity to check in and make sure you're eligible for your voice to be heard at the local, state, and national level. Whether it's the issues that impact your day-to-day life or the broader, more philosophical affairs that inspire you to visit the polls, this Tuesday is a good time to ensure you are registered and ready to go.
While next November's 2020 presidential election has garnered plenty of attention already, Oklahoma County has elections for candidates and propositions slated throughout 2019 and 2020. Elections empower citizens to voice opinions on everything from who is elected—as a judge, representative, school board member, or other office— to state questions, which run the gamut from available medical care options to what area tax revenues are spent on. Keep in mind that some elections happen quietly, but you are eligible to participate in far more of them than you may think! You do not have to wait for a national election to weigh in.
Visit the Oklahoma State Election Board or your local election board's website to check or change your voter registration status, download an application to register to vote, view sample ballots, and research upcoming elections. You can also give them a call with any questions you might have.
Knowing how to vote can be a daunting challenge for many people—luckily there are plenty of non-partisan resources online that are available to help. ISideWith is one site that can analyze your nuanced opinions and align them with the politicians who most closely represent your beliefs. Vote 411, a resource developed by the League of Women Voters, provides election guides in advance of local elections to help citizens better understand the issues. TurboVote, another free resource, is a mobile-friendly resource that will even remind you of when and where to vote in upcoming elections. Interested in additional voter resources? Find more information by visiting Metro Library's Voter Resources page.
While voting may be intimidating the first time or two, it can become an empowering habit and important piece of your life as a citizen. No matter which issues fire you up, chances are you'll have the opportunity to vote on it in November 2020—and several times between now and then!
On September 24, be sure to visit one of our 19 locations to pick up a voter registration form and participate in our voter drive to support National Voter Registration Day. We will ensure that your application is delivered to the Oklahoma State Election Board.
We are also always happy to help you find information about the issues that you care about any time of the year—from a variety of perspectives.