Learn and Explore!
For homework help or just for fun, Metro Library has something for every kid.
At each of our libraries, you will find children's computers with fun, educational games and online resources curated with the youngest, inquisitive minds in mind.
We offer developmentally appropriate programs, resources, and tips to encourage literacy at each stage in your child's life. We look forward to seeing you at one of our upcoming storytimes.
Blog Entries
Beginning July 1, children's materials including books, movies and music checked out from the Metropolitan Library System will no longer accrue fines if late.
"Fines are barriers to library access," said Julie Ballou, Executive Director of the Metropolitan Library System. "We are commit...
Collections

Kids Audiobooks & eBooks
Search a catalog of age-appropriate fiction and nonfiction eBooks just for kids. eBooks from OverDrive can be checked out for 7 or 14 days (you choose!) and when the checkout period expires, they check themselves in so there are never any late fees! Directions on how to enjoy these eBooks on your device may be found on this page.
Visit Resource Website

Kids Comics & Graphic Novels
Just for comics and graphic novel fans! Browse our collection of digital comics and graphic books for Kids from Overdrive.
Visit Resource Website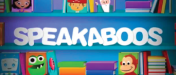 Speakaboos - Early Childhood Online Stories
Brought to you by the mind behind many of PBS's early childhood series and geared toward children ages 2 – 6, Speakaboos is an early literacy product designed to introduce children to the joy of reading through interactive and engaging stories featuring characters they love. Parents and caregivers looking to supplement storytimes and provide healthy screentime will appreciate the multiple options to read.
Visit Resource Website