Looking for information about registering to vote and upcoming elections, interested in ways to be more civically engaged, or in need of some voting inspired reads? Look no further than Metropolitan Library System's Voter Resources page. Keep scrolling to learn about a variety of civic-themed resources!
Visit the Oklahoma State Election Board's Voter Portal to find you polling place, request an absentee ballot (Note: you may now request an absentee ballot for all 2021 elections in which you are eligible to vote), view sample ballots, download a voter registration application, confirm your voter registration, update your voter registration information, view election dates and deadlines, and more.
2020 Election Guides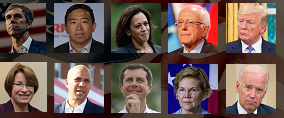 On November 3, 2020, voters in the U.S. will cast ballots in elections at the federal, state and local levels, including for the presidency and both houses of Congress.
Provided by World News Digest
Visit the 2020 Election Guide
Oklahoma Voting Guide
Prepared by the League of Women Voters, the Oklahoma Voting Guide highlights information on state questions and provides essential voter resource links.
Visit the Oklahoma Voting Guide
Absentee Voting
Prepared by the League of Women Voters, the Absentee Voting Guide walks voters through the steps to mail-in voting including a checklist to ensure your vote is counted.
Download Absentee Voting Guide
Blog Entries
August is National Women's Suffrage Month and this year marks the 100th anniversary of the 19th amendment to the United States Constitution. While the ratification of the 19th amendment dramatically changed and expanded the electorate, it did not usher in universal voting rights for all...
Every election season we all get bombarded with mailers, online posts, and TV ads for candidates or issues, both at the national and local level. Campaigns are consistently adapting their outreach; efforts might range from texting community members to hosting live townhalls. How can we evalu...
USEFUL LINKS FOR THE CIVIC-MINDED AND WELL-INFORMED VOTER
Register to Vote & More
Government Sites
Library Podcast Episodes

Oklahoma Politics Part 1: Running for office
Ever wonder what it takes to run for public office in Oklahoma? In part one of our two-part series about politics in Oklahoma we talked to one candidate running for Congress, one running for State House of Representatives, and one from the Oklahoma State Election Board to find out what it takes to run for office, and what it's like to be a first time candidate in the Sooner state.
Visit Resource Website

Oklahoma Politics Part 2: Being Mayor
In part 2 of our exploration of Oklahoma politics we talked with Oklahoma City Mayor David Holt and Village Mayor Sonny Wilkinson about what it's like being the mayor of a city in the state of Oklahoma. 
Visit Resource Website
Library Resources
This page is compiled and maintained by librarians at the Metropolitan Library System. Links to political parties are for informational purposes only and do not in any way constitute an endorsement.