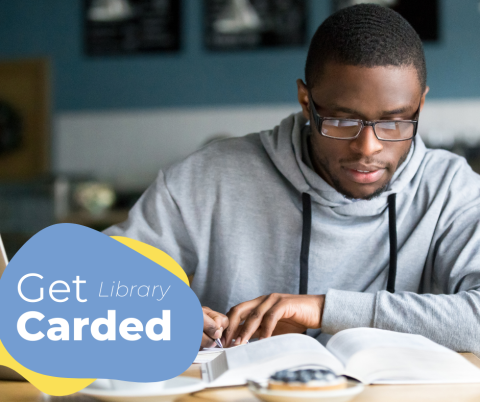 Students, Get the Most Out of Your Library Card!
You know that a library card lets you check out books. You might even know about all the other great materials the library has to offer — DVDs, music CDs, magazines, graphic novels and more. But did you know about the databases? The online test prep guides? Live tutors for homework help? The streaming movies and music? All free with your library card? Read on!
Databases
It's a boring word that hides some of our most exciting resources. Yes, databases are excellent for writing research papers and finding peer-reviewed articles. But we also have databases that can help you study for your driver's test, learn how to draw, create a resume, read screenplays, take an ACT practice test, learn to code and practice your foreign language learning skills.
Visit our Databases A-Z listing to be blown away!
Homework Help
Our biggest homework help resource is Brainfuse's HelpNow service. Are you ready for free study tools, practice tests and more? HelpNow includes live tutoring with vetted tutors. When a user enters an online live tutoring session, they're taken to the virtual whiteboard where they can draw out problems and concepts, type messages back and forth with their tutor and upload documents to share. After a session is complete, it's saved to the user's account so they can access the information for future study. HelpNow live tutoring sessions are available from 2-11pm every day.
Want to meet with your friends online to study together? HelpNow offers virtual study sessions! By using the "Meet" option, users can schedule time with their friends and use the whiteboard to exchange messages, share documents and more.
Visit HelpNow and get help with your schoolwork... now.
ONEcard & OKCPS
Students in Oklahoma City Public Schools have a unique way to access library resources. ONEcard is a partnership between the Metropolitan Library System and OKCPS. Students enrolled in a ONEcard account can use their student ID numbers to access Metro Library resources!
OKCPS students are automatically enrolled in ONEcard when they register to attend school, unless their parent or guardian opts them out. ONEcard account holders can check out up to 10 books or audiobooks at a time, use all online resources (including e-books, e-audiobooks and databases), and use library computers.
Don't go to OKCPS? Any child under the age of 17 who is eligible to attend school in Oklahoma County may apply for either a primary or school account. At this time we aren't able to expand ONEcard to include other school districts.
Book a Librarian and Tailored Skills
Have questions? We have answers. While we can't do your homework or fix all your problems for you, we can help you get started on research projects, find your first job, take the GED and more.
Fill out our online form and a librarian will help you through email, a 30-minute phone call or through Zoom. Book a Librarian now.
View over 70 learning lists on a variety of topics. Need something unique? Let our librarians craft a learning list just for you. Get customized learning assistance with your Tailored Skills lists now.
Music and Movies
We have several services available with your library card that give you access to all kinds of music and movies! Check out hoopla for great new music releases — Taylor Swift, Lorde, Dua Lipa, Missy Elliott, Olivia Rodrigo, Billie Eilish, Halsey, Brandi Carlile and more are just a click away.
You can also watch movies with hoopla and Kanopy. Popular movies, documentaries, bingeworthy series, indie films and more are available with your library card login.
Can you believe all the free materials, resources and services available to you with your library card? What's your favorite way to use your card? Help us spread the word!