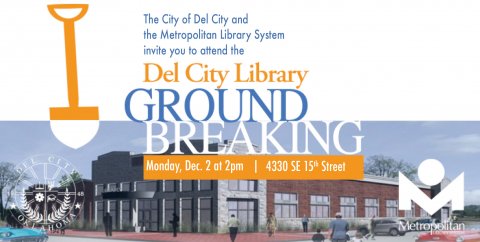 METROPOLITAN LIBRARY SYSTEM TO BREAK GROUND ON NEW DEL CITY LIBRARY
The Del City Library will soon get a new building and move out of their current facility, housed within the Del City Community Center. The new building will help the Library better meet the needs of a growing Del City community.
The Metropolitan Library System, Jenco Construction and Architecture Incorporated will break ground on the new Del City Library, Monday, Dec. 2, 2019 at 2pm at 4330 SE 15th Street.
The almost 16,000 square foot new Del City Library will be double the size of the current library facility. Some features will include a covered patio area for children's events, two study rooms, two meeting rooms and a drive-up book drop. A more spacious layout will also accommodate 30 public computers, 14 more than the current location.
"This means so much to our community," Metropolitan Library System Del City Library Manager Angel Suhrstedt said. "Our staff could not be more excited. This will allow us to offer our customers more items to checkout, more computer access, more space for reading and collaborating and more space for events."
The new library is expected to open in 2021. The nearly $3.5 million in project funds provided by the City of Del City for the project are from a 2012 sales tax initiative voted on by the citizens of Del City.
The first Del City Library opened in 1958 in an empty house owned by the City of Del City. In the fall of 1965, a countywide bond issue passed that made the Del City Library part of the Metropolitan Library System. The library moved into the current location in the community center in May of 1966.
In fiscal year 2019, the Del City Library had more than 108,000 visits. The library also had a 5 percent increase in materials borrowed since 2018 and a 27 percent increase in program attendance. Overall, the library serves over 18,000 active customers.