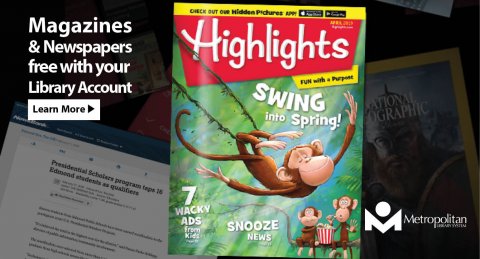 Access Magazines & Newspapers with a Library Account
Have you ever tried to finish a magazine article in the checkout line at the supermarket?
Keeping up with current events and hobbies doesn't have to be difficult. Your library account gives you access to popular magazines and world-renown newspapers at your fingertips, for free. 
This article will help you learn more about how you can use RB Digital, America's News and National Geographic through your library.
RB Digital Magazines 
Access popular publications like InTouch and Allure as well as niche publications like the American Poetry Review and Runner's World, in addition to hundreds of others. View full-color, digital replicas of all your favorite magazines. The best part is, on RB Digital users can checkout as many magazines as they want, no holds or waits. To get started, simply visit the Download and Stream page on our website or download the app on your smart device. Then, enter your library account number and last name to create an account.
America's News
From hometown favorites to nationally known publications, America's News has it all! Don't let pay-walls stop you from reading the news. Use your library account to access newspapers online and even print articles of interest. In addition to helping you keep up with current events, learn more about the past by browsing the archived newspapers. You can even conduct searches for your ancestors and use the resource as a genealogical tool. Visit our website to access American's Newspapers in your web browser. Enter your library account number and last name to get started.
National Geographic
Why would you go to the National Geographic site, when you can read it in RB Digital, right? Wrong. The National Geographic Virtual Library offers a much more robust learning experience than the simple magazine version we see at the store. Search images, explore topics, even read books and watch videos in the virtual library. This is a great resource for both adults and children. National Geographic Kids offers information covering all the topics your little scientists want to know. Visit our website to access National Geographic in your web browser. Simply type in your library account number and last name to get started.