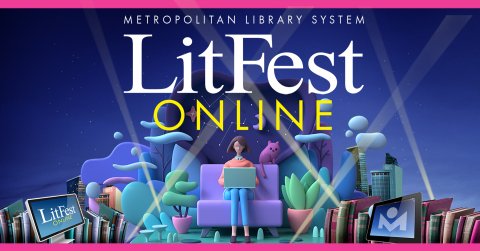 METROPOLITAN LIBRARY SYSTEM LAUNCHES ONLINE LITFEST
Are you an aspiring author, storyteller or content creator? Then stop by the Metropolitan Library System's website during the month of July to learn tips and tricks, and to view live or recorded sessions about the writing industry from local authors.
"This is the third year for the event, but this year it's all virtual," said Adult Librarian Sarah Brown, who is the brains in charge of the program. "People will have the unique opportunity to learn from industry professionals about a variety of topics ranging from how to grow your online platform, how to self-publish for free and tips on writing and illustrating graphic novels."
The MLS website will have a LitFest page that has a series of videos from presenters that can be accessed when convenient. The site will be available from July 1 to July 31 to correspond with the last half of Summer Reading. 
"We will also have three live sessions that will take place on our social media platforms," Brown said. "The first session will be July 6 at 9:30 a.m. with author and Iranian refugee, Dina Nayeri, who will talk about her experience writing a memoir. Another live presentation will be July 13 at 6:30 p.m. by Jeff Provine, author of the Haunted Oklahoma books, as he discusses spooky stories. Author Andrea Foster will finish the live presentations with a talk on July 20th at 6:00 p.m. about how to self-publish for free."
To participate in this year's LitFest, visit www.metrolibrary.org/litfest beginning July 1.