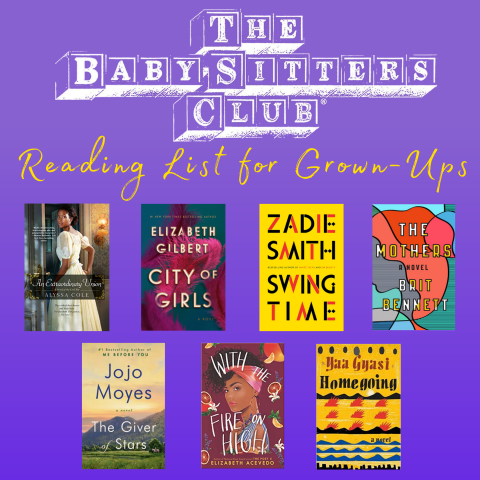 You've Just Binged "The Babysitter's Club:" A Reading List for Grown-Ups
If you were a young girl growing up in the 90s, there's a good chance you read at least one book from the "Babysitter Club Series" by Ann M. Martin. There's also a good chance you squealed in delight when Netflix released its modern reboot of the series in July. The show modernizes the more outdated content while preserving the timeless themes of the books: friendship, female role models, and hard work. The heroines are thoroughly clever and entrepreneurial, compassionate and wise. I found myself wanting to revisit the spirit of Stonybrook that so captured me as a teenager. While waiting for my hold of the first book of the series, Kristy's Great Idea, to come in, I've been scouring lists for other more grown-up novels that similarly champion female heroines and industriousness.
These are stories of women with aspirations and grit:
An Extraordinary Union by Alyssa Cole - This is for all of the romance readers out there! Elle Burns is a former slave with a passion for justice and an eidetic memory. Trading in her life of freedom in Massachusetts, she returns to the indignity of slavery in the South -- to spy for the Union Army. Malcolm McCall is a detective for Pinkerton's Secret Service. Subterfuge is his calling, but he's facing his deadliest mission yet -- risking his life to infiltrate a Rebel enclave in Virginia. Two undercover agents who share a common cause -- and an undeniable attraction -- Malcolm and Elle join forces when they discover a plot that could turn the tide of the war in the Confederacy's favor.
Swing Time by Zadie Smith - Two brown girls dream of being dancers--but only one, Tracey, has talent. The other has ideas: about rhythm and time, about black bodies and black music, what constitutes a tribe, or makes a person truly free. It's a close but complicated childhood friendship that ends abruptly in their early twenties, never to be revisited, but never quite forgotten, either.
City of Girls by Elizabeth Gilbert - In 1940, nineteen-year-old Vivian Morris has just been kicked out of Vassar College, owing to her lackluster freshman-year performance. Her affluent parents send her to Manhattan to live with her Aunt Peg, who owns a flamboyant, crumbling midtown theater called the Lily Playhouse. There Vivian is introduced to an entire cosmos of unconventional and charismatic characters, from the fun-chasing showgirls to a sexy male actor, a grand-dame actress, a lady-killer writer, and no-nonsense stage manager. But when Vivian makes a personal mistake that results in professional scandal, it turns her new world upside down in ways that it will take her years to fully understand.
The Mothers by Brit Bennett - In a contemporary black community in Southern California, 17-year-old Nadia Turner and 21-year-old Luke Sheppard launch a soulful affair. She's lost her mother to suicide, he's lost a football career to injury, and the decisions they make when Nadia becomes pregnant will reverberate throughout their lives, particularly complicating Nadia's close friendship with the devout Aubrey.
Homegoing by Yaa Gyasi - Two half-sisters, Effia and Esi, are born into different villages in eighteenth-century Ghana. Effia is married off to an Englishman and lives in comfort in the palatial rooms of Cape Coast Castle. Unbeknownst to Effia, her sister, Esi, is imprisoned beneath her in the castle's dungeons, sold with thousands of others into the Gold Coast's booming slave trade, and shipped off to America, where her children and grandchildren will be raised in slavery. One thread of Homegoing follows Effia's descendants through centuries of warfare in Ghana, as the Fante and Asante nations wrestle with the slave trade and British colonization. The other thread follows Esi and her children into America.
Giver of Stars by Jojo Moyes - Alice Wright marries handsome American Bennett Van Cleve hoping to escape her stifling life in England. But small-town Kentucky quickly proves equally claustrophobic, especially living alongside her overbearing father-in-law. So when a call goes out for a team of women to deliver books as part of Eleanor Roosevelt's new traveling library, Alice signs on enthusiastically.  The leader, and soon Alice's greatest ally, is Margery, a smart-talking, self-sufficient woman who's never asked a man's permission for anything. They will be joined by three other singular women who become known as the Packhorse Librarians of Kentucky.
With the Fire on High by Elizabeth Acevedo - Ever since she got pregnant during freshman year, Emoni Santiago's life has been about making the tough decisions, doing what has to be done for her daughter and her abuela. The one place she can let all that go is in the kitchen.  Even though she's always dreamed of working in a kitchen after she graduates, Emoni knows that it's not worth her time to pursue the impossible. But then an opportunity presents itself to not only enroll in a culinary arts class in her high school, but also to travel abroad to Spain for an immersion program. Emoni knows that her decisions post high school have to be practical ones, but despite the rules she's made for her life -- and everyone else's rules that she refuses to play by -- once Emoni starts cooking, her only choice is to let her talent break free.
By Katherine Hickey, Children's Librarian at Belle Isle Library