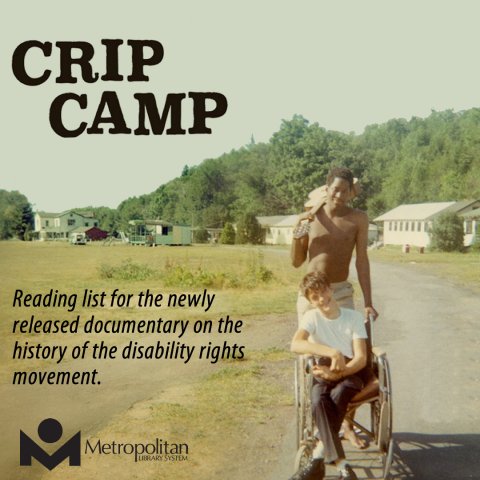 "Crip Camp" Reading List
"Crip Camp" is a newly released documentary on the history of the disability rights movement. The viewer is introduced to a captivating group of activists from all walks of life who met at a summer camp in the 70s named Camp Jened. They went on to become influential actors in the passing of the Americans with Disabilities Act of 1990. I finished "Crip Camp" eager to read more of their stories. I was excited to learn Judy Heumann, one of the activists profiled, released a memoir this year. This list also includes biographies, memoirs, and essays of people with disabilities, along with some children's books that can be enjoyed by littles and grown-ups alike!
Being Heumann : an unrepentant memoir of a disability rights activist by Judith E. Heumann
Paralyzed from polio at eighteen months, Judy's struggle for equality began early in life. From fighting to attend grade school after being described as a "fire hazard" to later winning a lawsuit against the New York City school system for denying her a teacher's license because of her paralysis, Judy's actions set a precedent that fundamentally improved rights for disabled people.
As a young woman, Judy rolled her wheelchair through the doors of the US Department of Health, Education, and Welfare in San Francisco as a leader of the Section 504 Sit-In, the longest takeover of a governmental building in US history. Working with a community of over 150 disabled activists and allies, Judy successfully pressured the Carter administration to implement protections for disabled peoples' rights, sparking a national movement and leading to the creation of the Americans with Disabilities Act.
Disability visibility : first-person stories from the Twenty-first century
One in five people in the United States lives with a disability. Some disabilities are visible, others less apparent—but all are underrepresented in media and popular culture. Now, just in time for the thirtieth anniversary of the Americans with Disabilities Act, activist Alice Wong brings together this urgent, galvanizing collection of contemporary essays by disabled people.
From Harriet McBryde Johnson's account of her debate with Peter Singer over her own personhood to original pieces by authors like Keah Brown and Haben Girma; from blog posts, manifestos, and eulogies to Congressional testimonies, and beyond: this anthology gives a glimpse into the rich complexity of the disabled experience, highlighting the passions, talents, and everyday lives of this community.
The pretty one : on life, pop culture, disability, and other reasons to fall in love with me by Keah Brown
Creator of the #DisabledAndCute viral campaign, journalist/activist Brown relates what it's like to be disabled and African American in a mostly abled, mostly white America. She was born with cerebral palsy and had to learn to love herself, as she explains in essays that range from her passion for pop culture to her relationship with her able-bodied identical twin.
Haben : the Deafblind woman who conquered Harvard Law by Girma Haben
Born with deaf-blindness, Girma grew up with enough vision to know when someone was in front of her and enough hearing to know when someone close to her was talking. However, she had difficulty reading facial features or distinguishing people in group conversations. Relying on her own problem-solving skills, Girma overcame roadblocks while simultaneously obtaining her undergraduate and then law degree.
In the process, she developed new methods of communication and found her calling in advocating for the deaf and blind communities in more accessible communication, education, and employment opportunities. As a lawyer and advocate, Girma shares a collection of vignettes illustrating the defining points in her life.
Nothing about us without us : disability oppression and empowerment by James I. Charlton
Nothing About Us Without Us is the first book in the literature on disability to provide a theoretical overview of disability oppression that shows its similarities to, and differences from, racism, sexism, and colonialism. Charlton's analysis is illuminated by interviews he conducted over a ten-year period with disability rights activists throughout the Third World, Europe, and the United States.
I Am Not a Label by Cerrie Burnell
In this stylishly illustrated biography anthology, meet 30 artists, thinkers, athletes, and activists with disabilities, from past and present. From Frida Kahlo to Stephen Hawking, find out how these iconic figures have overcome obstacles, owned their differences, and paved the way for others by making their bodies and minds work for them.
Show Me a Sign by Ann Clare LeZotte
Mary Lambert has always felt safe and protected on her beloved island of Martha's Vineyard. Her great-great-grandfather was an early English settler and the first deaf islander. Now, over a hundred years later, many people there -- including Mary -- are deaf, and nearly everyone can communicate in sign language. Mary has never felt isolated. She is proud of her lineage.
But recent events have delivered winds of change. Mary's brother died, leaving her family shattered. Tensions over land disputes are mounting between English settlers and the Wampanoag people. And a cunning young scientist has arrived, hoping to discover the origin of the island's prevalent deafness. His maniacal drive to find answers soon renders Mary a "live specimen" in a cruel experiment. Her struggle to save herself is at the core of this penetrating and poignant novel that probes our perceptions of ability and disability. (9+)
Emmanuel's dream : the true story of Emmanuel Ofosu Yeboah by Laurie Ann Thompson
Born in Ghana, West Africa, with one deformed leg, he was dismissed by most people--but not by his mother, who taught him to reach for his dreams. As a boy, Emmanuel hopped to school more than two miles each way, learned to play soccer, left home at age thirteen to provide for his family, and, eventually, became a cyclist. He rode an astonishing four hundred miles across Ghana in 2001, spreading his powerful message: disability is not inability. Today, Emmanuel continues to work on behalf of the disabled (5+)
All the way to the top : how one girl's fight for Americans with disabilities changed everything by Annette Bay Pimentel
Diagnosed with cerebral palsy at birth, Jennifer Keelan grew up battling -- and overcoming -- the limitations others set for her. From a lack of cutaway curbs and bus lifts to being denied enrollment at her neighborhood school, Jennifer was continually blocked from living the life she wanted. But after discovering the world of disability rights activism, she knew she had to use her voice to change things.
When Jennifer was just eight years old, she participated in the Capitol Crawl. The deeply affecting image of Jennifer crawling up the steps of Capitol Hill went viral and helped pressure Congress into passing the Americans with Disabilities Act. A powerfully illustrated biography of Jennifer's life and a celebration of youth activism, All the Way to the Top will teach all children that they have the power to make a difference. (5+)