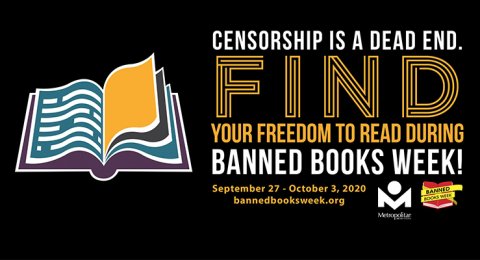 Banned Books Week 2020: Censorship is a Dead End
"Censorship is a dead end. Find your freedom to read!"
September 27-October 3 we celebrate literature that pushed the envelope, including those authors who dared to address difficult topics, share real-life experiences through story and create other-worldly realms that tested our imagination.
Can you think of a book that was so powerful you felt like it was speaking to you directly? Can you think of a book that made you look at the world in a new way? Can you think of a book that immersed you in another world so deeply that for a moment you believed the impossible was possible?
What book titles came to mind for you? Books like these are sometimes challenged because they express ideas that are considered unorthodox or unpopular by some.
Banned Books Week gives readers the opportunity to celebrate their freedom to read and the importance of free and open access to information.
Here are the Top 10 Challenged Books of 2019 put together by the American Library Association (ALA) Office for Intellectual Freedom (OIF) as reported by librarians and teachers across the country. What titles here have you read? How did they affect you?