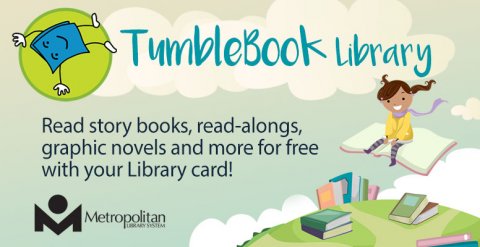 TUMBLEBOOKS NOW AVAILABLE AT YOUR LOCAL LIBRARY
Tumble into a new read at your local library! Want access to free literacy tools and family entertainment? Your library has a new children's literacy eResource available with your library account, Tumblebooks! Download the Tumblebooks app through your phone or tablet or browse books online through your internet browser.
Tumblebooks features over 1100 titles for grades K-6 including animated, graphic novels, read-along books and National Geographic videos. The service also includes books in Spanish and French. 
If you are a current Speakaboos user, access to Speakaboos will be discontinued. Speakaboos, like Tumblebooks, offered access to interactive eBooks for children. Adobe Flash Player, the software used to support Speakaboos will no longer be supported after Dec. 31, 2020, making the resource inaccessible.
The Metropolitan Library System offers a variety of children's literacy resources and programs, many available from the comfort of home. Access some of these children's literacy tools with your library account.
Read-Along Books - A versatile new way for children to read - a traditional book with an upgrade - a speaker that reads as your child reads.
Hoopla - There is something for every member of the family on Hoopla. Try Hoopla Kids for everything from literacy skills to entertainment.
Tailored Titles - Get personalized reading recommendations on social media and via email. Sign up to learn about the latest reads for your family's favorite genres.
Little Pim - A unique language-learning resource created specifically for kids and babies that uses videos and other tools to help them learn a new language.
Kanopy Kids - Children and parents can enjoy unlimited use of Kanopy Kids with curated children's movies, tv shows, and read-along stories. Stream from the web, iOS, Android, AppleTV, Chromecast, FireTV or Roku.
Library Online - Visit our calendar of events for the latest take home kits and virtual programs for all ages including programs like 123! Play with Me at Home!, book clubs, storytimes and more.
1000 Books Before Kindergarten - An excellent way to get your child ready to learn is to read to them! 1000 Books Before Kindergarten helps children and their caregiver prepare for kindergarten.
Fine Free Children's Materials - Children's books, movies and music checked out from the Metropolitan Library System will no longer accrue fines if late and any existing fines on children's materials will also be waived.
About the Metropolitan Library System
The Metropolitan Library System is a public library system serving Oklahoma County residents. MLS includes 19 library branch locations. The Metropolitan Library System is the largest library system in Oklahoma, serving anyone who lives, attends school, or owns property in Oklahoma County. MLS circulates over 6 million materials each year.