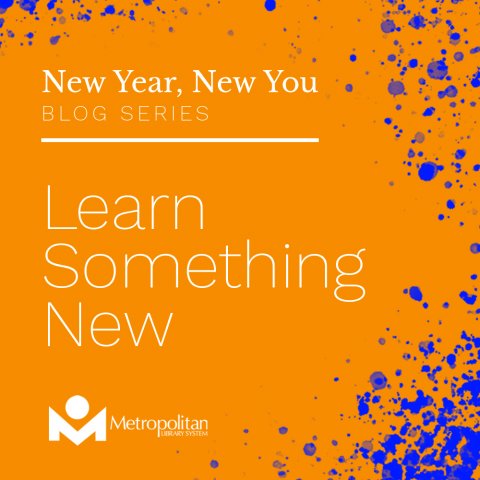 Learn Something New
Tim, Central Information Services
It's a new year. Some of us have made resolutions, and many of us have already broken them. To help you get back on track, we're here with suggestions to learn something new this year and solutions for how we can help. 
1. Learn a Language 
Our  Mango Languages  database has over 70 languages you can learn online and at your own pace. There are also English as a second language courses for speakers whose native language is not English and a variety of language learning courses designed just for kids. It even has an app that you can use to learn on the go.  
Signing Savvy  has videos to help you learn American Sign Language (ASL) signs and  finger spelled words, and it allows you to create flash cards and quizzes. What's more? It even has a dictionary in which you can look up ASL words and phrases, and you can even learn signs for use with your baby.  
2. Learn a Skill or Hobby 
Using our  Hobbies & Crafts  database, you can learn a number of skills, including how to  brew your own beer   or  make your own wine.  After you "celebrate your handiwork," you'll probably need a nap so be thankful you previously learned how to  make your own quilt. 
With  Auto Repair Source, you'll find enough wiring diagrams, schematics, maintenance tips and step-by-step repair instructions for your car that you may never see your regular mechanic again (which might not be a bad thing). 
Another fun eResource to explore is the Home Improvement Reference Center. Interested in building a raised garden bed this spring? Want to Feng Shui your home décor? Look no further! Begin exploring a variety of topics to make your house a unique expression of you and your family. 
3. Learn About Your Family History 
Ever wanted to shake your family tree to see what nuts fall out? We have the resources to help you do just that. 
Access Newspaper Archive  provides access to search tens of millions of U.S. and international newspapers going back more than 400 years. 
Ancestry.com  (available for remote access for a limited time) contains billions of historical records like family trees, photographs, census, birth, marriage and death records and much more. 
America's GenealogyBank  allows you to search over 300 years of historical U.S. newspapers, books, pamphlets, local histories, military records, funeral sermons, land grants, birth and marriage records and more. 
HeritageQuest Online  contains U.S. Federal Censuses from 1790-1940, local history books and articles, and Freedman's Bank Records (1865-1874) among its holdings. 
These are just a handful of the many  databases  that will help with your family research. In addition to these digital resources, the Downtown Library maintains an extensive genealogy collection in print, and special collections librarians are available over the phone to answer all your genealogy questions. 
4. Learn to Take Control of Your Money 
We subscribe to  Consumer Reports  so you can read reviews of products before you buy them,  see a calendar of the best time of year to buy particular items, learn how to get the best deal when buying a car and learn how to find the best bank services and loans.  
Looking to grow your portfolio? We also offer access to the  Morningstar,  Mergent Online and  Value Line  databases, respectively, which provide comprehensive coverage of stocks, mutual funds and other securities, expert investing advice and the research tools and reports you'll need to make Warren Buffet look like an amateur. 
The new year is full of potential so take this opportunity to use the many resources at  your  Metro Library to learn something new!