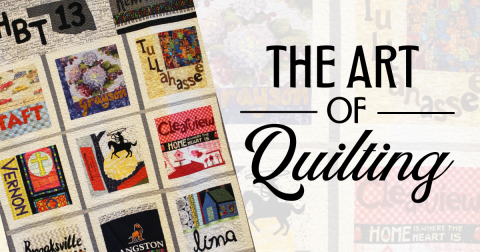 The Art of Quilting
by Jennifer, Adult Librarian at the Northwest Library
Most likely, ever since people realized they could make a "fabric sandwich" to keep warm, they also added personal, artistic touches to their quilted works. The earliest known written records describing quilts are nearly 1,000 years old, but scholars believe quilting in some form existed long before that. Quilting techniques have been used in garments as varied as soldiers' armor and ladies' petticoats, as well as in making window and bed coverings.
During Black History Month, as we take time to appreciate and honor the lives and contributions of African Americans, in this post we will look at the rich history of African American quilters. A creative work like a quilt can have deep and profound meaning to the individual crafter as well as to a whole community. It may seem like a sweet and gentle pastime, but, just as Pioneer quilters used quilt block patterns to record actual events along the trail, African American quilters along the Underground Railroad used their quilts to communicate when other means of communication were not available to them. Sometimes entire blocks in a quilt were codes, decipherable only to those who knew the meaning behind the patterns. Thus, quilts hung seemingly innocently over a fence or clothesline at night may have helped freedom-seeking slaves on their way north.
Check out Deborah Hopkinson's Sweet Clara and the Freedom Quilt, Jacqueline Woodson's Show Way or The Patchwork Path by Bettye Stroud for a feeling of what it may have been like to escape north with the help of friendly quilters. Or for adults, try the book on CD or eAudio of Jennifer Chiaverini's The Lost Quilter, part of her beloved "Elm Creek Quilts" series. Nonfiction lovers may enjoy Crafted Lives: Stories and Studies of African American Quilters by Patricia Turner or A Piece of My Soul: Quilts by Black Arkansans by Cuesta Benberry.
African American quilters continue the pastime of creating gloriously unique works of quilted art to this day. In 2002 the world was made aware of the rich tradition of quilters—men and women alike—in Gee's Bend, Alabama through the publication of several books. While these books have now become collector's items, the Metropolitan System does own copies (and an eBook) of a children's version, The Quilts of Gee's Bend by Susan Goldman Rubin.
Artist Faith Ringgold used her own quilts to illustrate her Caldecott Honor winning book, Tar Beach and other books for children. Dancing at the Louvre includes images of Ringgold's quilts that were part of her artistic exhibitions over the last several decades.
And the great tradition of African American quilting continues right here in the Metro. A wide variety of quilting guilds have met at branches all around the Metropolitan System for many years. The Modern Quilt Guild has used the Northwest Branch for its monthly meetings for quite some time. The Afrono Quilt Guild has met at the Ralph Ellison Library for many years, and the Soldier Creek Quilters have been meeting at the Midwest City branch for at least twenty years. The Soldier Creek Group regularly displayed their completed projects in the display cases at the library for the month of October. The library was also lucky to have another local artist display quilts for Black History Month each February.
Local quilter Beverly Kirk from the OKC Community Quilt Guild has prepared a presentation for us on her quilt "Historic Black Towns in Oklahoma", so be sure to watch the Facebook program on Monday, February 15th at 6:30pm. Ms. Kirk is an experienced quilter with an eye to history. Her featured quilt is an example of how art can educate, in this case, about the all-black communities and towns that were spread around the Oklahoma prairie, some of which still thrive today.
Even though in-person meetings of the local quilting guilds have, as with so much of current lives, been put on pause, you can still find an immense selection of quilting books throughout our branches, ready and waiting for you to put them on reserve and check them out. For those interested in looking at quilting more in depth, be sure to check out our online reference resources, including the Hobbies and Crafts database. It is chock-full of information on any kind of hobby you can imagine. For quilting, click on the "Needlecrafts and Textiles" option to view a wealth of knowledge on all things to do with quilting.
You may also be interested in the some of our other subject specific reference databases, such as the African American Heritage database, the African America Newspapers (1827-1998) database or the African American History database. For biographical information on famous African Americans, try Contemporary Black Biography.