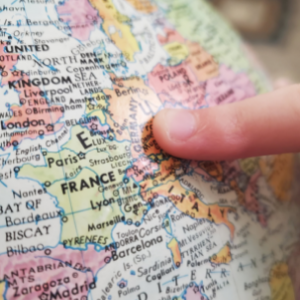 Prost! We Found Our Sister Library in Düsseldorf, Germany
by Morgan, Marketing and Communications
I'd say a toast is in order.  
Metro Library has secured a sister library partnership with the International English Library in Düsseldorf, Germany, and I for one feel like raising a glass to that. As someone who's wanted for years to learn more about Deutschland, its people, its history and its culture, it couldn't get much better than this.  
Exhibit A: My home is filled with German language flashcards and textbooks from my German for traveling class at Francis Tuttle Technology Center. When I open my phone to view the day's weather, my brain reverts to "Wie ist das Wetter heute?" ("What is the weather today?"). A 5-pound book of beautiful photos of Germany takes up half my coffee table. 
And on a more somber note, I opted for history classes focused on the Holocaust in college, even writing a story about my professor (a child of the Holocaust) for my school newspaper. I try to read one book dedicated to the devastating event every couple years in an attempt to understand the unfathomable hatred humans are capable of. 
All that to say: I'd be all in on any sister library partnership, but this takes the cake for me. Sit back while I tell you how this whole thing came together and what it means for customers of the Metro Library and International English Library.  
Our Oklahoma City-Düsseldorf Connection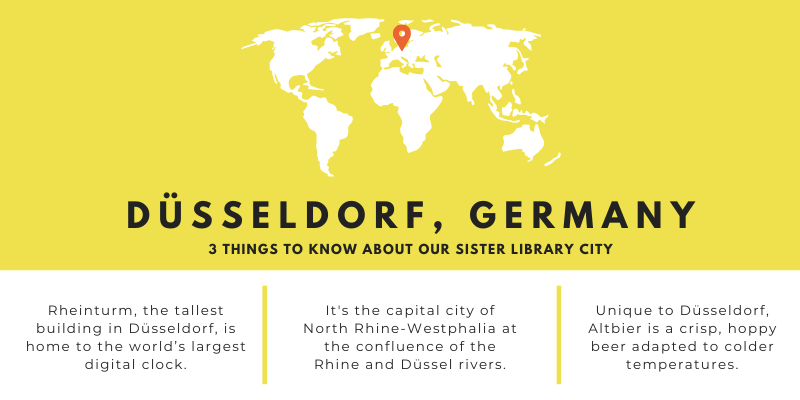 You'd think every time we got on a Zoom call with our German connections, we'd hear German accents, but that's never been the case. In fact, MLS staff work closely with two volunteers — one originally from Oklahoma with an American accent just like us (though her Okie-isms might have worn off a little from her years in Germany), and another with an Australian accent. 
The reason? An international team of volunteers runs every aspect of the non-profit organization, from purchasing books to programming events and promoting services to the public. As the only English library in North Rhine-Westphalia, the library aims to connect its customers to its 20,000-plus items and foster a community around English books and culture. 
The International English Library doesn't just serve those who speak a non-German language; it serves all Düsseldorf residents who appreciate English-language culture. In fact, 35% of the library's members are Germans! 
Our partnership started with Jynon Hibbard, a 16-year volunteer with the International English Library and member of the library's board of trustees. Born and raised in Oklahoma City, Hibbard volunteered with the Friends of the Library Booksale for several years before relocating to Germany 25 years ago.  
She made it her mission to connect with an Oklahoma library, and she had her heart set on us. 
"It's a real privilege for me to partner with the very library that helped nurture my love for books 55-plus years ago," Hibbard told me. "And now here I am working with the Metro Library from 8,000 miles away. I feel like I've come full circle." 
Once she reached out to Metro Library, we had no doubt it was a perfect match. 
Hibbard said she especially looks forward to the cross-cultural exchange that will take place between our two libraries. She summed it up pretty well with this.  
"We often have stereotypes of each other, which may be romantic notions, but aren't necessarily true," she told me. "Not all Germans wear lederhosen and dirndls, guzzle beer and yodel. And not all Oklahomans ride horses, wear cowboy hats and gingham dresses or live in teepees. Not only is it a goal of ours to learn about the different cultures, but it's to exchange resources, giving our patrons more available materials and learning tools." 
So, how did the International English Library come to be, you ask?  
The British Forces established the International English Library in 1946 to bridge the gap between nations that were at war during World War II. The British Occupation Office created Die Brücke (meaning "the bridge"), a center for community gathering, cultural events and a library of English books. 
When budget cuts in the '90s almost closed the library, a group of private citizens and regular visitors came together to form a non-profit and make it a volunteer-run organization. The library has continued to run on volunteer support since 1999 and represents Germany, Japan, the United States, the United Kingdom and many other countries. In addition, at least 20% of the library's volunteers are born and bred locals. 
How Our Customers Benefit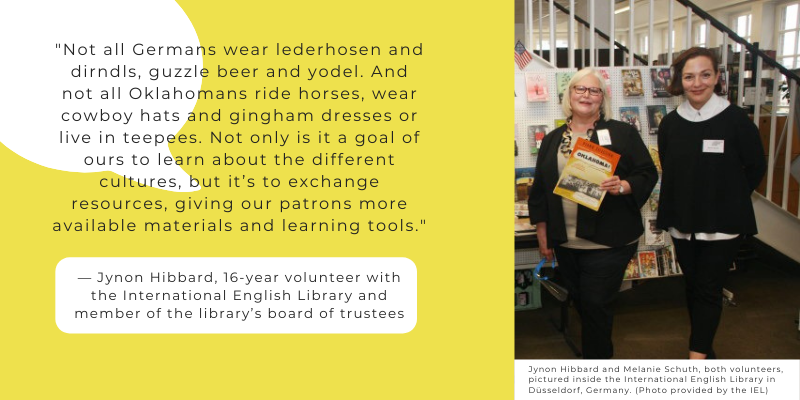 Customers from both Oklahoma and Germany stand to benefit from the partnership. I'm envisioning lots of great social media content and blog posts from both organizations. Imagine getting a virtual tour of the International English Library via Instagram stories, or getting to ask our friends in Germany anything you want about their city, country and culture via Facebook Live. 
Melanie Schuth, also a volunteer at the International English Library (the one with the Australian accent), looks forward to educating Metro Library customers about many things, one of them being the city of Düsseldorf. 
"Düsseldorf is a city with quite a strong literary history," Schuth said. "The German poet Heinrich Heine was born here, and so there's a Heinrich Heine House where our library currently is located in Heinrich Heine Alley. Johann Wolfgang von Goethe had an impact here as well, and we have the Goethe-Museum Düsseldorf. We would love to share that literary aspect with Metro Library customers."  
Heather Zeoli, Metro Library's director of development and volunteer services, has big plans for enriching and educating through this partnership. 
"It gives us an opportunity to engage with citizens and library services staff members in another country who have different views, practices, things they embrace, and because they're an English-speaking library, we're able to maximize our impact for our customers and their customers and share resources without the need for translation services."   
The partnership will bolster Metro Library's efforts to educate about significant events in German history, such as World War II and the Holocaust, which the International English Library educates about as well.  
"We have the Henia Ring Schiff Holocaust Resource Collection at our Ronald J. Norick Downtown Library, and with this library being in Düsseldorf, Germany, and part of the origin of that library being an outcome of World War II and de-Nazification, it's a great opportunity to continue the conversation in this generation about how we destroy hate and how we build healthy communities that are free from prejudice and racism," Zeoli said.  
This Oklahoma-Düsseldorf connection could be the first step in a series of sister library partnerships for us.  
"We'd love to create more of these relationships," Zeoli said. "This is a really great place for us to start."  
Now, as for that toast to celebrate our libraries coming together ... Remember to keep your eye contact while you do it (it's a German custom!). 
Learn more about the International English Library by visiting international-library.de/en/ and keep an eye out for the exciting content we'll distribute as we partner with our new sister library.