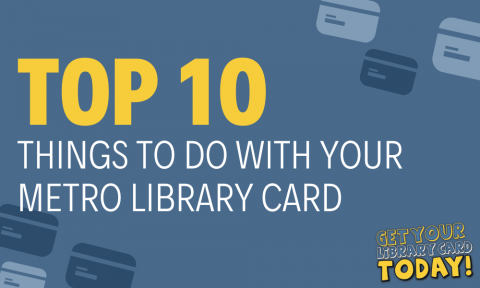 Top 10 Things to Do with Your Metro Library Card
by Marlene and Ellory, Central Information Services
1. Check out a book, of course
There are countless books available for checkout in our library collection. With your library card, you can check out books for all ages, reading levels and interests! Visit one of our libraries to browse our shelves or check out our online catalog.
Don't find what you need on the shelf? We can send material from any of our 19 locations to your local library! Ask a staff member or use the "hold" button on our catalog to reserve an item, and we'll notify you when it's ready for you to pick up.
2. Watch movies or listen to music
Are you in a movie-watching mood or up for some good music? Our library isn't just about books! We also have DVDs, music CDs and more. In our catalog, filter by "format" to easily find the movie or music CD you're looking for. You can also use hoopla to stream music, TV shows and movies, and Kanopy for streaming movies and documentaries as well as Great Courses videos.
3. Check out items without stepping foot in a library
We have so many options for you to access our collection without having to leave your house. Libby has thousands of downloadable e-books, audiobooks and magazines that you can check out online or in the mobile app. In addition to movies and TV, hoopla also has downloadable e-books, audiobooks and more and our Ebsco e-book collection has always-available e-books.
We are excited to be offering curbside services as well. When you have holds ready for pick up, you can pull up to the designated spot during curbside hours, use the new Metro Checkout app or call the posted number to alert staff, and we will bring your items out to you.
You can download the Metro Checkout app from the Google Play Store or Apple App Store.
4. Suggest a title or place an interlibrary loan
Do we not have what you're looking for? We're always up for suggestions! Use our suggest a title page to submit a recommendation for our collection. We also offer interlibrary loan services for borrowing books that we don't own from other library systems around the nation.
5. Keep your children learning and entertained
Kids have lots to discover with their library cards. Visit our kid's catalog, which has easy-to-navigate category searches. Libby e-books and audiobooks, Tumblebook e-books and read along books are all great for car rides. And Kanopy is now offering unlimited checkouts of TV and movies in their Kanopy Kids section.
Do your kids need extra school help? We have resources such as live tutors and homework help available on HelpNow. We also have children's digital encyclopedias and other resources to help kids research school projects and learn more about their interests.
6. Get a personalized reading list
If you're not sure what to read next, we're here to help. Fill out our reading interest survey or tell us what topics you'd like more information on and we'll build a personalized reading list for you. You can also subscribe to our genre-based email newsletters to receive reading recommendations and information about other resources and programs. We also have special events on Facebook and Twitter where we will provide a personalized reading suggestion just for you.
7. Experience some of what OKC has to offer
Your library card gives you free access to some of what OKC has to offer. Our libraries are now offering OKCMOA Experience Passes for checkout, which are vouchers for general admission for up to five people to the Oklahoma City Museum of Art!
Our library system also participates in the Read for Adventure program. This means you can check out the book Juniper's Butterfly Garden by Autumn Heigle and receive a voucher for four passes to the Oklahoma City Zoo, which are available on a limited basis.
8. Learn something new
We have resources available for people of all ages who want to learn something new. You can view all our resources on the Research and Learn page of our website, but here are a few notable ones:
If you're interested in starting a new hobby or learning a new skill but have no idea where to start, we offer Tailored Skills, which are guides of resources aimed at helping you learn a particular skill. Check out one of our learning lists or fill out our learning form so we can create a custom list just for you.
9. Access Library by Mail
We are glad to offer our Library by Mail program to serve Oklahoma County residents who are at least 65 years old or are completely homebound. With Library by Mail, you can request books, CDs, DVDs and Playaways through our catalog or by phone and we'll mail them to you! When you're ready to return them, simply put them back in the bag you received them in and send them back to us—no postage required. To sign up for Library by Mail, please call (405) 606-3295 or (405) 606-3297 and we'll be happy to help get you set up and place your first order.
10. Find books, movies and more in Spanish!
¿Hablas español? We have Spanish materials available in both physical and digital format. You can search for Spanish books in our catalog using the "language" filter on your search results. There are also Spanish materials available digitally on Overdrive, Hoopla, Kanopy and Ebsco e-books. We also offer Odilo, which is an e-book collection completely in Spanish. Visit metrolibrary.org/hola for more information.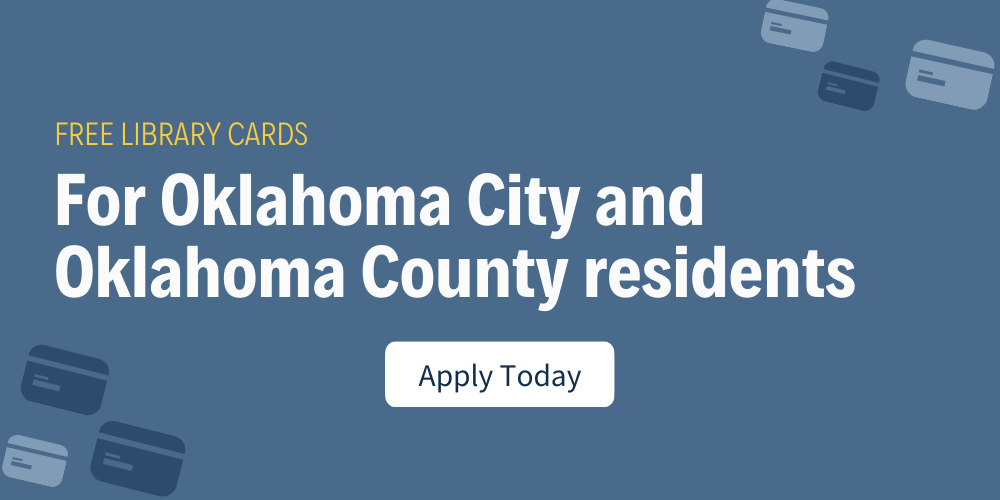 Don't have a library card yet? You can apply for one online. Visit metrolibrary.org/getcarded to get started. Or visit any of our library to sign up in person.