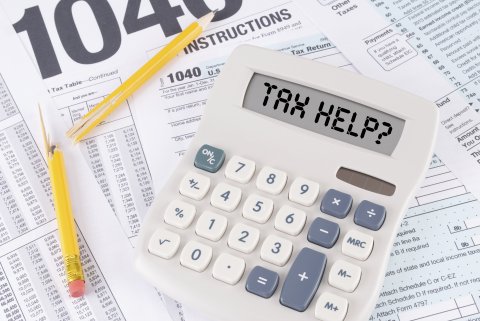 Tax Resources 2021
The Metropolitan Library System is here to help make this tax season a little less stressful! 
Check out our Income Tax Resources page for access to:
Visit any Metropolitan Library location to have us print free federal and state tax forms for you.
We also have a variety of print and eBooks to help you prepare your taxes this year!  
Disclaimer: Please note that Metropolitan Library System staff are neither tax experts nor tax advisers. Consult IRS.gov for the most up-to-date tax information.
After filing your taxes, you might be looking for ways to become more financially fit this year! Look no further than your favorite library system for a wide variety of print and digital resources to help set you, your family, or your small business up for success for years to come.
Understanding the Earned Income Tax Credit (EITC)
The Earned Income Tax Credit (EITC) helps low- to moderate-income workers and families get a tax break. If you qualify, you can use the credit to reduce the taxes you owe – and maybe increase your refund.
Did you receive a letter from the IRS about the EITC? Find out what to do.
Who Qualifies
You may claim the EITC if your income is low- to moderate. The amount of your credit may change if you have children, dependents, are disabled or meet other criteria.
Military and clergy should review our Special EITC Rules because using this credit may affect other government benefits.
Use our EITC qualification assistant to find out if you qualify and for how much.
Check If you Qualify
Books and eBooks @ Your Library
Know yourself, know your money : discover why you handle money the way you do, and what to do about by Rachel Cruze
Little Book of Common Sense Investing by John Bogle
Get Good With Money: Ten Simple Steps to Becoming Financially Whole by Tiffany Aliche
Investing for Dummies (2021 copyright) by Eric Tyson 
Clever Girl Finance: Learn How Investing Works, Grow Your Money by Bola Sokunbi
The ultimate guide to frugal living : save money, plan ahead, pay off debt & live well by Daisy Luther
The buy nothing, get everything plan : discover the joy of spending less, sharing more, and living by Liesl Clark
Money hacks : 275+ ways to decrease spending, increase savings, and make your money work for you! by Lisa Rowan
Personal finance 101 : from saving and investing to taxes and loans, an essential primer on personal by Alfred Mill
Databases @ Your Library
Digital Magazines @ Your Library