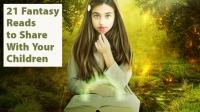 21 Fantasy Reads to Share With Your Children
When I had kids, one of the things I looked forward to was being able to share the things I love with them. As an 80's/90's kid I got excited when they rebooted My Little Pony and Teenage Mutant Ninja Turtles. I loved when my kids were old enough to start watching the Harry Potter movies, when they got obsessed with slime (Gak if you kick it old school), and I am still working on turning them into comic book nerds. But what I want to impart to them the most is my love of reading. As a kid reading was my escape and it has always been a major part of my life (both of my kids are named after characters from some of my favorite books). I want my kids to have that same relationship with books. Not only will it help them academically, but it will make them more well-rounded people. And since fantasy is my go-to genre, I have found some books that are not only great reads but are sure to get kids hooked. Comment if you have any other recommendations!
Series
Midnight for Charlie Bone (Children of the Red King Series) by Jenny Nimmo
Harry Potter and the Sorcerer's Stone(Harry Potter Series) by J.K. Rowling
The Lightning Thief (Percy Jackson and the Olympians Series) by Rick Riordan
If you like this series, he also has one about Magnus Chase which focuses on Norse Mythology.
A Wizard of Earthsea (Earthsea Cycle Series) by Ursula K. LeGuin
If you like this series, she also has a series called Catwings.
The Golden Compass (His Dark Materials Series) by Phillip Pullman
The Wind Singer (Wind on Fire Trilogy) by Willian Nicholson
The Amulet of Samarkand(Bartimaeus Sequence) by Jonathan Stroud
Inkheart (Inkworld Series) by Cornelia Funke
This was also made into a movie starring Brendan Fraser!
The Magician's Nephew (The Chronicles of Narnia) by C.S. Lewis
Charmed Life (The Worlds of Chrestomanci Series) by Dianne Wynne Jones
Ragweed (Tales from Dimwood Forest) by Avi
Leven Thumps and the Gateway to Foo (Leven Thumps Series) by Obert Skye
The Field Guide (The Spiderwick Chronicles) by Holly Black & Tony DiTerlizzi
Stand Alone Books
Doll Bones by Holly Black
Crenshaw by Katherine Applegate
Monstrous by MarcyKate Connolly
Small Persons with Wings by Ellen Booraem
The Graveyard Book by Neil Gaiman
The Girl Who Drank the Moon by Kelly Regan Barnhill
The Magician's Elephant by Kate DiCamillo
Momotaro: Xander and the Lost Island of Monsters by Margaret Dilloway