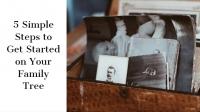 5 Simple Steps to Get Started on Your Family Tree
Getting started in your genealogical research can be daunting. Maybe you have tried before, but you hit a wall and lost steam, maybe you feel overwhelmed by the amount of information to organize or maybe you just don't know what resources are available and how to use them. Wherever you may be in your journey, the library is a great place to get started. Through the library, you have access to professional librarians who specialize in genealogy, robust eResources accessible through your home computer and a large collection of physical resources available in the library.
It is easy to just dive in head first but take a moment to read through a getting started guide or check out a few beginner's genealogy books before starting your journey. You will be glad you did your preliminary research when you hit a rough patch that requires more in-depth research.
Step 1
Sort through your attic or storage
Take inventory of items that could possibly help you in your research. This may include family photos, Bibles, letters, school yearbooks, scrapbooks, newspaper clippings, diplomas and other items. You may later consider scanning these items into a computer and uploading them to your favorite genealogy software or Ancestry.com.
Step 2
Talk to your family
I know you are probably thinking this goes without saying and you have already gotten as much as you can from family members. However, you would be surprised the things that never came up in discussions with your relatives. You never know until you ask questions. Remember to document your interviews with family members. You can even use a smart phone and record conversations, so you don't forget key facts. Pay special attention to dates, even if they are approximate. If one of your relatives says they lived in Tennessee from X date to X date and they know that was about when your great grandfather passed away, then you have an approximation of the year he died and that could be helpful information in narrowing down the records you are looking for to find the exact date.
Step 3
Develop a timeline
Fill in everything you know on your family tree and try to create a timeline. Along your genealogical journey, you may find many records of individuals with the same name as your relative who lived at different times. Having an idea of dates, places they lived and immediate family members are some things that could help you determine if the record is actually your relative or a false lead.
Step 4
Begin filling in the gaps
Once you have the information written down on an ancestor chart, it is easier to see what you are missing so you can begin to fill in gaps. You may want to write a list of specific information you need or information that you may be able to get on certain ancestors from other ancestor's vital records. For example, if you are looking for your great grandfather's name, you may look at your grandmother's birth certificate. It won't always be that simple to figure out, but with time and by utilizing the library's resources, the result is rewarding.
Step 5
Check out the resources available at your local library
Metro Libraries have a variety of online resources available from home to get you started. For a list of resources and what they include, visit our genealogy webpage. Physical genealogy collections are also available at the Ronald J. Norick Downtown Library.