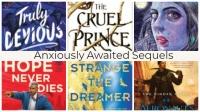 Anxiously Awaited Sequels
In this age of streaming video, everybody's binging. Binge watching is the practice of watching multiple episodes of a television program in rapid succession. I'm currently re-watching all seven seasons of Star Trek: Voyager. Because I can. And I often like to binge read, as well. Why wait years for the next book in the series, when you can just read them all at once?
But sometimes, it's exciting to get in on the ground floor of something. Be it TV or book series, it can be fun to experience it right there along with everyone else. Who shot J.R.? Who killed Laura Palmer? Is [insert Game of Thrones character name here] really dead? Fans had to wait months or even years for the answers to these questions, and some are STILL waiting (side-eye at HBO and George R. R. Martin)!
In the mid-to-late 2000s, I was BIG into Harry Potter. As in, never missed a midnight book release or movie opening, listened to multiple Potter podcasts, and was even into wizard rock. Yep, bands who write songs about Harry Potter. Being a part of this cultural phenomenon was extremely exciting, especially in the wait between books six and seven, when fan theories about what would happen in the last book ran rampant. That's something you just can't get from an after-the-fact binge.
While nothing will ever take the place of Harry Potter or its fandom for me, there are some sequels I am currently anxiously awaiting. If you'd like to join me (and swap fan theories), check out these first books in some new series.
Strange the Dreamer by Laini Taylor
Lazlo Strange is a librarian obsessed with the lost city of Weep, which disappeared centuries ago. He doesn't think he'll ever have the chance to realize his dream of discovering what happened to it, until one day an opportunity presents itself in the form of a warrior called the Godslayer. This one is categorized as YA, but I think it could definitely hold its own with any adult fantasy series. If you start it now, the sequel will probably be here by the time you finish it. Muse of Nightmares comes out on October 2.
The Cruel Prince by Holly Black
When Jude was seven years old, her parents were murdered, and she and her sisters were taken to live in the High Court of Faerie by their murderer, a vicious fey general. Ten years later, Jude is desperately trying to find her place in the court, despite being despised by most of the fey, especially the king's youngest son, Cardan, who seems bent on destroying her. Black continues her streak of writing BAMF teen heroines and deliciously naughty fey. This one is full of court intrigue, swordplay and spies, and just a dash of romance (seriously, the tiniest bit). A companion e-novella, The Lost Sisters, comes out October 2, and the next full book in the series, The Wicked King, comes out January 8, 2019.
Truly, Devious by Maureen Johnson
Stevie Bell is a true crime aficionado just starting at a new school, Ellingham Academy, where almost a century before, the founder's wife and daughter were kidnapped and vanished without a trace. Stevie has a unique idea for a school project: solve the cold case. I loved everything about this book: the characters, the setting, the mystery. My only complaint is that I have to wait for the next book to find out if my theory of the murder is correct! The Vanishing Stair comes out January 22, 2019.
My Favorite Thing is Monsters, Vol. 1 by Emil Ferris
Set against the tumultuous political backdrop of late '60s Chicago, this is the fictional graphic diary of 10-year-old Karen Reyes. Karen envisions (and draws) herself as a werewolf private investigator, as she tries to solve the murder of her enigmatic upstairs neighbor, Anka Silverberg, a holocaust survivor. Filled with imagery from B-movie horror and pulp monster magazines, the artwork in this book is gorgeous. The story turned far darker than I was expecting. This is definitely one for mature readers, despite the young heroine. I can't wait for the resolution to this story, but I'll have to. My Favorite Thing is Monsters, Vol. 2 comes out September 11, 2019.
The Aeronaut's Windlass by Jim Butcher
I'm a big fan of Jim Butcher's Dresden Files series, so when I heard his next series was going to be steampunk, I couldn't wait to read it. Windlass, the first book in the Cinder Spires series, introduces readers to a world in which everyone lives in mist-shrouded spires high above the surface of the earth. An airship's crew becomes humanity's lone defenders when an ancient enemy reawakens and threatens the world with monstrous creatures and perpetual darkness. Honestly, I thought this book dragged a bit, especially compared to the fast-paced Dresden books, but by the end of it, the story was really picking up, er, steam (forgive the pun, I couldn't resist). But that was three years ago, and still no news of when we might expect the next book. A post on Butcher's website states, "Jim will start writing The Olympian Affair [Cinder Spires #2] when he finishes Peace Talks [Dresden Files #16]," which has no official release date yet, either.
Hope Never Dies by Andrew Shaffer
At the start of this surprisingly good mystery novel, Joe Biden is feeling pretty sorry for himself, seeing photos of his (former?) bestie Barack windsurfing with Bradley Cooper. But when an acquaintance turns up dead with a map to Biden's house in his pocket (because this guy is apparently a time traveler from 2003 and still prints out Mapquest directions?), Barack is suddenly back in his life, and the two are on the case, along with a very reluctant Secret Service agent. I'll admit, when I picked this one up, I wasn't sure if it could live up to its concept's promise. But Shaffer really delivered. I was impressed with his grasp of these two men as characters, and the mystery turned out to be really solid. Full disclosure, I don't know if this book is getting a sequel, but I sincerely hope it is (and after all, hope never dies).