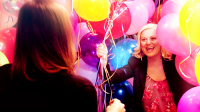 Celebrate Galentine's Day!
"What is Galentine's Day? Oh, it's only the best day of the year," says Leslie Knope, the optimistic, ambitious community organizer played by Amy Poehler on the TV show Parks & Recreation. In the show's second season, Leslie explains her made-up holiday, "Every February 13th, my lady friends and I leave our husbands and our boyfriends at home, and we just come and kick it, breakfast style. Ladies celebrating ladies. It's like Lilith Fair, minus the angst. Plus frittatas."
I love this idea. First of all, breakfast is my most favorite food. Why? Name a breakfast food that can't be topped with either syrup, gravy, or salsa. You can't. Those are definitively the best food toppings. Therefore, breakfast is the best food. Fact.
Second, female friendship is definitely worth celebrating. True Love gets all the press, but every time Prince Charming has turned back into a frog and let me down, my girlfriends have been there to pick me back up. Women supporting women is beautiful, and it has the power to change the world. More women ran for public office in 2018 than ever before, a trend that would make Leslie Knope proud.
If you want to celebrate Galentine's Day with your gal pals, grab your friends and break a few eggs! The following reading list will get you started, with a mix of breakfast cookbooks and books featuring inspiring female friendships.
The Poet X by Elizabeth Acevedo
Breakfast: A History by Heather Arndt Anderson
Six of Crows by Leigh Bardugo
My Plain Jane by Cynthia Hand
Breakfast for dinner: recipes for frittata florentine, huevos rancheros, sunny-side-up burgers, and more! by Lindsay Landis
Pachinko by Min Jin Lee
Rise & Shine: Better Breakfasts for Busy Mornings by Katie Sullivan Morford
Puddin' by Julie Murphy
Text Me When You Get Home: the Evolution and Triumph of Modern Female Friendship by Kayleen Schaefer
Swing Time by Zadie Smith
The Animators by Kayla Rae Whitaker