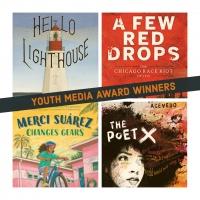 Check Out an Award Winning Title: Youth Media Award Winners Announced
Every year, the American Library Association awards special recognition to excellent new books for children and teens. The most recognizable of these awards are the Randolph Caldecott Medal, for the most distinguished picture book; the John Newbery Medal, for excellent in children's literature; the Michael L. Printz Award, for excellence in young adult literature; and the Coretta Scott King Book Awards, for books that demonstrate an appreciation of African American culture and universal human values.
This year's awards were announced at a library conference in Seattle on January 28th. We have these winning titles, plus so many other winners from equally exciting new youth award lists in our catalog. If you're looking for something new, this is a great place to start!
Caldecott Medal
Hello Lighthouse by Sophie Blackall
This quiet, nostalgic story is paired with beautiful ink and watercolor artwork. Repetition in text and creative storytelling make this a fun book to read with young children.
Newbery Medal
Merci Suarez Changes Gears by Meg Medina
Merci, a thoughtful sixth-grader, is adjusting to a lot of changes in her life. This relatable story covers family life, school drama, friendships, and sports.
Printz Award
The Poet X by Elizabeth Acevedo
The Poet X is also a Pura Belpre Author Award winner and the National Book Award winner. In this book, teenager Xiomara finds her voice through performing poetry. The audiobook is also available on Hoopla. 
Coretta Scott King Award
A Few Red Drops: The Chicago Race Riot of 1919 by Claire Hartfield
This narrative nonfiction title is powerful and well-researched. The illustrator winner is Ekua Holmes for The Stuff of Stars. This Boston artist uses collage and hand marbled paper to explore the formation of the universe in a book written by Marion Dane Bauer. The audiobook is also available on Hoopla.