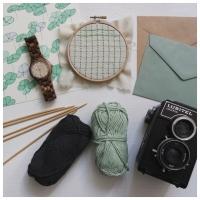 Check out our Online Hub for Hobbies & Crafts this Holiday Season
Did you know?
The library has an online hub for hobbies and crafts that you can access 24/7 from home.
The Hobbies & Crafts eResource allows you to explore a variety of topics from knitting, sewing and cooking to ham radio, bookmaking, coin collecting and even hang gliding among others. Hobbies & Crafts is brimming with fun ideas and intriguing articles for just about any hobbyist to keep your family entertained all winter long. This resource includes project templates, magazine articles, informational articles covering the basics of each topic area and more.
Getting Started
Log in to the library's website and access the Hobbies & Crafts eResource using the button below or by visiting the library's Research page.
Need Help?
Tips for Searching Hobbies & Crafts
The easiest way to browse the variety of topics available is to click view all topics under the browse by category section.
If you are conducting a search, it is beneficial to use the advanced search and add date limiters. This way you pull up the most recent crafts unless you are looking for something older.
It is also beneficial to filter by source type. For instance, if you are looking for a craft specifically, you can use the filter on the left-hand side to filter by projects.
Don't have a library card? Apply online.