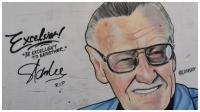 Excelsior! - A Tribute to Stan Lee
On November 12th 2018, Stan Lee, co-creator of iconic comic book characters Iron Man, Hulk, Spider-Man, Captain America, the X-Men and Thor among others, died.  He was 95 years old.  When I heard about his passing, I wasn't surprised, he wasn't in great health, but I was saddened.  Not only do we share a love of comics, we shared a birthday, December 28th.  So, as a comic book fan and above all a Marvel comics fan, it was a sad day, but it brought back one of my favorite memories.   
In 2012, I was lucky enough to get tickets to attend the San Diego International Comic Convention in July.  I had attended a couple of years before and was a little overwhelmed but for 2012 I was going to be better prepared and give myself extra time to not only experience as much of Comic-con as I could, but also explore more places around San Diego.   When I finally picked up my tickets, I found out that Marvel Comics would be having a booth at the Convention and would be holding a drawing for a select few fans to meet Stan Lee!  Yes. Please! 
I woke up early (well, early for me) the next morning so that I could get to the Convention center before the crowds.  Well, early to me was late to them, so when I arrived at the convention center there were already hundreds of people waiting for the convention doors to open. When the doors finally opened, I hurried to the Marvel Booth and found to my utter disappointment, that the drawing wasn't happening for another two hours and there was already a huge line wrapping around the Marvel booth (which if you measured it around all four sides would probably be around a city block long).  To make the time go faster while waiting in line I started up conversations with the people in line with me. We talked about comics, movies, television shows and what we were excited about visiting and seeing at Comic-con.
For me it was about the comic creators and getting them to sign my t-shirt, which I have been carrying around with me to every comic convention I have attended since around 2007. This t-shirt was my most prized because it was filled with signatures and drawings from a host of comic book creators as well as a few actors and obscure pop culture personalities.  My goal was to get Stan Lee to sign my t-shirt and this was my best opportunity to get that accomplished, even though I knew it was a long shot.  As the hours went by, the line around the Marvel booth moved forward, and I got closer to my turn in the drawing.  My hopes that I would be one of the lucky few to get to meet Stan Lee started dwindling as I heard person after person scream out in excitement that they won.  Pretty soon it was just a few people ahead of me and I heard another scream of excitement as the couple in front of me won one of the tickets to get an autograph.  I knew at that time that my chances of winning were pretty much zero; the odds just weren't in my favor.  I cheered myself up by reminding myself that I was at Comic Con in beautiful San Diego. I knew I would meet some of my favorite comic creators and I would get them to sign my t-shirt and that was a pretty good deal.  So, when it was my turn I put my hand in the box and pulled out a card and miracle of miracles…I won.
Meeting Stan Lee was surreal, I was nervous and all through my head I kept trying to think of what to say, I think I ended up saying something goofy like "Thank you for creating Spider-Man" or something lame like that, but he like so many others, saw my t-shirt with all the different creator signatures and drawings and told me it was a pretty neat shirt.  That made my trip and after that day, I felt like everything else I received at Comic-Con, whether it was a free poster or pin was a bonus. 
Stan Lee had an impact on many people's lives through the comic characters he created.  I for one will be forever grateful for him creating the X-Men, as an African-American child, their struggles spoke to me.  Below you will find library materials that help celebrate Stan the Man.  EXCELSIOR!
The Stonishing X-Men: Gifted by Joss Whedon (writer) and John Cassaday (peciler)
Cyclops and Emma Frost re-form the X-Men with the express purpose of "astonishing" the world. But when breaking news regarding the mutant gene unexpectedly hits the airwaves, will it derail their new plans before they even get started? As demand for the "mutant cure" reaches near-riot levels, the X-Men go head-to-head with the enigmatic Ord, with an unexpected ally – and some unexpected adversaries – tipping the scales. This volume collects ASTONISHING X-MEN #1-6.
Civil War: A Marvel Comics Presentation by Mark Millar (writer) and Steve McNiven (penciler)
The landscape of the Marvel Universe is changing, and it's time to choose: Whose side are you on? A conflict has been brewing from more than a year, threatening to pit friend against friend, brother against brother - and all it will take is a single misstep to cost thousands their lives and ignite the fuse. As the war claims its first victims, no one is safe as teams, friendships and families begin to fall apart. The crossover that rewrites the rules CIVIL WAR features, Spider-Man, the New Avengers, the Fantastic Four, the X-Men and the entirety of the Marvel Pantheon. This volume collects CIVIL WAR #1-7.
The Fantastic, Four Volume 1 by Stan Lee (writer) and Jack Kirby (penciler)
After they are exposed to mysterious cosmic rays, Reed Richards, Ben Grimm, and siblings Sue and Johnny Storm soon become known as Mr. Fantastic, The Thing, The Invisible Girl, and The Human Torch. This special volume collects "The Fantastic Four" #1-10 along with unused cover artwork and an essay and original plot notes from by Lee.
Stan Lee's How to Write Comics by Stan Lee
Comics icon Stan Lee, creator of the Mighty Marvel Universe, has set about to teach everything he knows about writing and creating comic book characters. In these pages, aspiring comics writers will learn everything they need to know about how to write their own comic book stories, complete with easy to understand instruction, tips of the trade, and invaluable advice even for more advance writers. From the secrets to creating concepts, plots, to writing the script, the man with no peer -- Stan Lee--is your guide to the world of writing and creating comics.
Amazing Fantastic Incredible: A Marvelous Memoir by Stan Lee, Peter David and Colleen Doran (artist)
In this beautifully illustrated graphic memoir—illustrated by celebrated artist Colleen Doran—Lee tells the story of his life with the same inimitable wit, energy, and offbeat spirit that he brought to the world of comics. Moving from his impoverished childhood in Manhattan to his early days writing comics, through his military training films during World War II and the rise of the Marvel Empire in the 1960s to the current resurgence in movies, Amazing Fantastic Incredible documents the life of a man and the legacy of an industry and career.