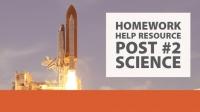 Homework Help Resource Post #2: Science
Whether you are a regular scientist or in need some assistance in the science department – you will find a great variety of online resources covering topics in all areas of science on the Library's website. We have materials for all ages – whether your student is writing a difficult report or simply has a science-related question you are looking for an answer to – this is the place to go. This post is a part of a series about homework help resources, so if you're looking for more, check out the related articles at the bottom of the page.
National Geographic Kids is a fun way to learn and explore science. This online resource contains a variety of learning videos, captioned photographs, magazines and books. These materials are great for browsing or your student can use the search bar at the top to search for a specific topic they are interested in.
Science online is great for any age user – it is easy to navigate and search as well as browse. This may be a good place to go if you are writing a report on a science topic, looking for experiment ideas or just enjoy watching videos and browsing science topics. Home page categories on this resource include elearning modules, featured videos and animations, interactive experiments, diagrams and people such as computer scientists, inventors and mathematicians.
This reference center is a great resource for teachers, so if you homeschool this may be a place to look for online teachers guides in science. It includes lesson plans, science experiments, citation help, research guides, and worksheets as well as a variety of sources for students to use in a research paper or for preparing a science project.
This resource covers a variety of scientific study areas including geography, life science and physical science. This resource is easy to use as well as browse and includes fun topics such as monthly birthdays in history, and science projects. Each article includes citations and photos on the subject to best engage your learner.