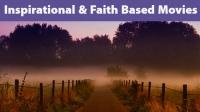 Inspirational and Faith-Based Movies
Need a little pick-me-up? Inspirational and faith-based movies are popular checkouts! The library has a growing collection of inspirational books and movies. Here are some popular titles from the DVD collection. 
Jon is a pastor with a unique form of praise. After an unwelcome "outburst" during a service, the senior pastor requests he is moved to another church. After being moved three times, he must decide whether to change his worship style or risk moving yet again.
Hoovy is the story of a Midwest family living the American Dream until their son Hoovey becomes severely ill. Doctors find a large tumor at the base of this brain. After successfully removing the tumor, Hoovey's journey has only just begun. He must re-learn to do basic things and may never play basketball again. His family is faced with emotional turmoil and medical debts that test their faith.
Brendan King enters his eighteenth foster home after being incarcerated multiple times. He becomes Christian and leaves his gang, but his past threatens his new way of life. Former gang members cause problems for him and his new family and his newfound faith is tested. This title is also available to stream on Hoopla.
Tyler prays in the form of letters to God each day. The letters catch the attention of a struggling substitute mailman. After reading Tyler's letters, he is inspired to turn his own life around and build a relationship with his estranged son. The mailman must decide what to do with the letters. This title is also available to stream on Hoopla.
Following a near-death experience, Sol decides to re-think his life. The famous atheist and struggling father finds himself turning to Christianity. This title is also available to stream on Hoopla.
This movie follows the lives of three families as they experience tragedy and their faith is questioned. Their lives intersect as the tragic events unfold and they must decide if they will trust and rely on one another as everything else unravels.
Suzanne Waters' Faith is tested as she experiences a series of difficulties following her retirement as a local high school principal. She takes in a delinquent boy and his presence renews her family's faith.
This story follows young Jesus from the age of seven as he grows in his faith, beginning with his families return home to Nazareth after the death of King Herod. Jesus' parents, Mary and Joseph, have not yet told him the truth of his miraculous birth. As he finds his way in his faith he and his family must now worry about the new king, Herod's son.
I'm Not Ashamed tells the story of the first student killed in the Columbine High School shooting through her diary entries. They depict how the student's faith and outreach to other students caused her to be a target of a malicious crime.
A college professor is challenged in class by a student who believes in God and will not accept his professor's request that all students sign a statement claiming, "God is Dead". The professor asks Josh to prove his stance, leading to a series of presentations with the class as a jury. Meanwhile, Josh's law degree hinges on passing the class.