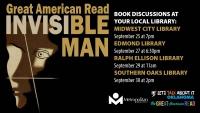 Join us for a Discussion about Invisible Man by Oklahoman Ralph Ellison
This month the Library is hosting a series of discussions about Invisible Man, by Oklahoma City native Ralph Ellison. The book was selected by PBS "The Great American Read" as one of America's 100 best-loved books. So what makes Invisible Man one of the greatest reads of all time? Tell us what you think. Join in the discussion at your local library.
Invisible Man Discussion with Mayor Holt and Michael Owens:
Check out our Facebook discussion below with Oklahoma City Mayor David Holt and Executive Director of the Ralph Ellison Foundation, Michael Owens.
"This program is provided, in part, by Oklahoma Humanities and the Oklahoma Department of Libraries through partnership with PBS and OETA. Additional support was provided by Friends of Libraries in Oklahoma and Friends of the Oklahoma Center for the Book. Any views, findings, conclusions, or recommendations expressed in this program do not necessarily represent those of the program partners."