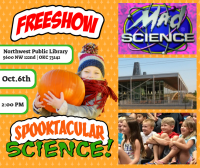 Join us for Mad Science!
Join us Sat. Oct. 6 for Spooktacular Science with Mad Science!
Spark your child's scientific imagination through their scientific discoveries in the Mad Science program. Mad Science is an enrichment provider that hosts programs throughout the U.S. to teach children about science concepts in a fun and engaging way. These programs promote STEM (science, technology, engineering and math), areas of high employment in the U.S. and particularly Oklahoma. These fields make up over 6 percent of all occupations in the U.S.
Workers in STEM fields earn higher wages, and degree holders in STEM fields earn 12 percent more than non-STEM degree holders, according to a March 2017 report from the U.S. Department of Commerce. Oklahoma has seen a 24 percent uptake in STEM employment since 2016, compared to the national STEM employment growth rate of 10 percent, according to the U.S. Bureau of Labor Statistics.