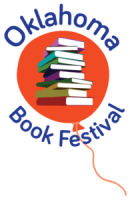 Join us at the Oklahoma Book Festival Oct. 20
Love reading? Since you're reading a blog on your library's website, I'm going to say "yes, you do"! Then you'll definitely want to know about the first Oklahoma Book Festival, organized by the Oklahoma Department of Libraries. This big event will take place Saturday, October 20th in the OKC Boathouse District from 10 a.m. to 5 p.m. Your library will be there, with lots of smiles, answers, high fives-- and a fun temporary tattoo station. 
The Book Festival will include presentations from authors, book signings, and exhibitions from publishers, illustrators, authors and bookstores. More than 50 authors will be in attendance! Headliners include David Grann, author of the New York Times bestseller, Killers of the Flower Moon: The Osage Murders and the Birth of the FBI; award-winning suspense novelist Meg Gardiner (Into the Black Nowhereand UNSUB); Lou Berney (November Road and The Long Faraway Gone); and illustrator Jerry Bennett, whose clients include Stan Lee, Marvel, Lucasfilm, Mattel and Dreamworks. 
The event will also include popular children's and young adult authors. The schedule of events is available on the festival website, and you can even download their mobile app to help you keep all the fun straight. You won't want to miss any of the presenters, book signings, entertainers and kids' crafts. Come see us in the Boathouse District this weekend and bring the family!