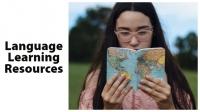 Language Learning Resources Available through the Library
Did you know that you can learn a new language through cutting-edge language learning software available through your local library? These language learning resources are even available from the convenience of your home computer or mobile device. Check out the below available language learning tools accessible with your Metro library card.
Mango Languages – This language learning resource is a great way to get started in your language-learning journey or to sharpen your language skills. Languages included in Mango are Spanish (Latin American), Cherokee, English, French, Chinese (Mandarin), German, Korean, Pirate and over 60 other languages. This resource is available online or on an app for Apple and Android. It's as simple as selecting a language to learn and Mango takes you through a language learning track.
Little Pim – Little Pim is the Kids version of the valuable language learning tool, Mango Languages. This resource is available online only. Little Pim includes Chinese (Mandarin), Japanese, Italian, Hebrew (Modern), English, French, Spanish (Latin American), Russian, German and Arabic (Levantine). The learning tool engages children in interactive videos with Panda learning companion, Little Pim.
ESL and Language Learning Videos on Kanopy – Kanopy has a variety of language and cultural learning resources for all ages including English as a Second Language Instruction, Spanish language instruction, native and ancient languages and language studies. Kanopy is available online and as an app. Kanopy is also available on all major TV apps including AppleTV, Roku, FireStick, Android TV and Chromecast. Simply browse the "ESL & Languages" collection on Kanopy.
Signing Savvy – This is a unique American Sign Language learning resource for all ages. The resource includes a dictionary and lists of common words as well as baby signs including common words you may use with your child. Each word has a video of someone signing the word to make learning easier. It also includes learning tools such as flashcards, quizzes and word lists. Signing Savvy is available online as well as an app.
Odilo – Odilo is a Spanish language online collection including eBooks and eAudiobooks. The collection is available from an app as well as online. Odilo includes content for both adults and children. This is a great resource for Spanish speakers as well as Spanish language learners.