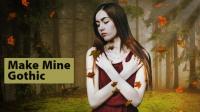 Make Mine Gothic
It's October, and that means I want the weather to be chilly, the foliage to be flaming, and for lots of spooky ghosty things to happen. But it's also Oklahoma, which means the temperature is still 80 degrees, most of the grass and leaves are still green, and the scariest thing is the politics.
Little known fact: I was a huge scaredy-cat as a kid. I think my love of horror stemmed directly from my constant state of terror as a child. At some point, I figured out that if I deliberately exposed myself to scary things, then the emotion was within my control. But I've never been big on slashers, zombies are just okay, and don't even get me started on torture porn (like Saw, Hostel, etc.). I know all those genres have their standouts, but I'll take some good old-fashioned gothic horror over them any day.
Gothic horror is all about atmosphere: hot passions and chill dread, decaying mansions with secret passages—or even better, dungeons or labyrinths!—and secret tenants, terrible weather, isolation, families that don't talk about dark pasts, ghosts, swooning heroines and ill-tempered, brooding men, darkness, and blood. And let me tell you, all of that is my jam.
This was a difficult genre to curate a list for, because so many of the really stellar examples are from the 18th and 19th centuries, and do you really need me to tell you to read Jane Eyre or The Turn of the Screw? You probably read them in high school. But I am nothing if not a dogged researcher, and after many months (I'm not even kidding), I have put together a list of some of the best gothic fiction of the last few years.
Walk with me, reader, on the blasted heath, hear the distant howling of wolves, and for goodness' sake, don't investigate those noises in the attic!
The Fall by Bethany Griffin
If you liked Poe's "The Fall of the House of Usher" but thought it would be more interesting if told from Madeline Usher's point of view, a) you're right, and b) this is the book for you. This is the second Poe retelling by Griffin (the first being The Masque of the Red Death), and they are both wonderfully descriptive and inventive. The Fall really captures the atmosphere and claustrophobia of being trapped in decay: of the estate, of the family, and finally, of Madeline's very mind.
This Dark Endeavor by Kenneth Oppel
Ever wonder what Victor Frankenstein was like as a teen? Pretty angsty, it turns out, but that's to be expected. This is the first book in a duology about the young Frankenstein (not to be confused with the Mel Brooks movie, which is excellent in an entirely different way). Victor's twin brother has fallen deathly ill, and his only hope resides in the secret alchemical library found in the family home by Victor, his cousin Elizabeth, and their friend Henry.
The Turning by Francine Prose
Another contemporary retelling of a classic—this time, The Turn of the Screw—finds teenage Jack babysitting two seemingly sweet children to make some money for college. The only downside is that their house is located on a creepy island with no phone, TV, or internet. Oh, and it may be haunted. The story is told through Jack's letters home to his girlfriend and dad, and it stays true to James' original in its unreliable narrator and ambiguous ending.
The Silent Companions by Laura Purcell
A pregnant young widow is sent to her late husband's crumbling country estate—you're getting the gothic vibes already, aren't you?—where the servants are resentful, the villagers hostile, and there's a locked room containing a wooden figure that may or may not be watching her.
The Atrocities by Jeremy C. Shipp
"When Isabella died, her parents were determined to ensure her education wouldn't suffer." I mean... Does it get any better than that? Oh wait, it does. When the new governess arrives, after forcing herself through a maze of twisted human-like statues, she is introduced to her invisible pupil, the lady of the house explaining that they feel keeping Isabella's schedule as normal as possible will help her in the afterlife. Eek!
Creatures of Will and Temper by Molly Tanzer
From the Publisher's Weekly review: "Tanzer mixes Oscar Wilde's The Portrait of Dorian Gray with queer romance and demonology in this subtle, beautiful Victorian-era fantasy novel." Sisters Dorina and Evadne are sent to London after some of Dorina's dalliances get her in trouble. Evadne is an avid fencer, which adds yet another interesting layer to this urban-fantasy update to Dorian Gray.
The Girl from Rawblood by Catriona Ward
This novel combines an ancestral curse, a ghostly mansion on England's brooding Dartmoor, a teenager in love, and disaster. It starts out in 1910 and moves back and forth in time as it reveals the horrors that have befallen the Villarca clan. From Library Journal: "Imagine the darkest and goriest undertones of Edgar Allan Poe, the Brontës, Charles Dickens, and Shirley Jackson, and you'll have an idea of what Ward offers here." Yes, please!