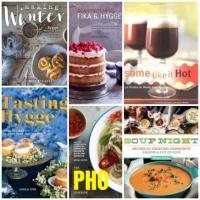 Socks, Soup, Hot Drinks, and Hygge
Snow days are the best days. When work and school are closed, and you've already made your obligatory milk and bread run to the store, you've got nowhere to be and are in no hurry to get there. Everything is covered in a sparkling blanket of white, sounds are muted, and the world slows down. It's easy to appreciate the beauty of winter on these days, when you're snuggled up in your cozy home, possibly with a good book courtesy of your local library!
But the next day or the day after, when the beautiful pure snow has turned to gray slush, and you've got to trudge through it back to work... Or when the steely sky refuses you snow and only spits cold rain in icy little pellets... Then winter can get dreary. The days seem so short but the season so long. You yearn for spring sunshine.
The Danish combat winter doom and gloom with the concept of hygge (pronounced "HOO-gah"). Hygge, simplified, is the art of coziness. According to the official tourism website of Denmark, "In essence, hygge means creating a warm atmosphere and enjoying the good things in life with good people." It's cooking things from scratch and sharing them with loved ones. It's slowing down and acting with intention. It's a warm blanket in front of a roaring fire.
For me, hygge means crafting, especially knitting socks, soup in the crockpot, and a hot mug of tea or cocoa. These three things, especially when paired with a snuggly pup and a good Netflix binge, are pretty much the perfect winter day for me. Perhaps everyone's idea of hygge is a bit different, but if you'd like to indulge in a few of my favorite winter things, these books will get you started.
Making Winter: a Hygge-Inspired Guide for Surviving the Winter Months by Emma Mitchell
This is the book that inspired this whole blog post. It combines two of my favorite things: crafting and baking! There are a wide variety of crafts represented, from nature sketches to crochet to making jewelry and bird feeders. And the recipes! Oh, the recipes... I'm getting hungry just thinking about the plum and orange blondies.
Tasting Hygge: Joyful Recipes for Cozy Days and Nights by Leela Cyd
Hygge is all about taking time to make things from scratch and creating your own light in the darkness through love and friendship. I can't think of a better way to combine these than cooking food for friends and family. Browsing the recipes in this book, I immediately started planning a little brunch get-together in my head, with Shirred Eggs 6 Ways (p.18), a Buckwheat Crepe Feast with All the Trimmings (p.28), and Gingerbread Waffles with Pears (p.42). Yum!
Scandikitchen: Fika and Hygge by Bronte Aurell
I watch a lot of the Great British Baking Show. I mean, a lot. It's my go-to comfort TV. Adorable British people with a fun assortment of accents, being nice to each other and baking delicious treats? Yes, please! Paul Hollywood's baby blues... What more could you possibly want? This is a weird intro to a book about Scandinavian baking, but my point is that I recognize quite a few of the recipes in this book from GBBS technical challenges, and they all look scrumptious. It's a win-win: flex your baking muscles a bit and learn some new skills AND create tasty treats to share!
Soup Night: Recipes for Creating Community Around a Pot of Soup by Maggie Stuckey
I thought this was such a fun concept! The author writes of a neighborhood in Portland, Oregon, that has a regular Soup Night, where everyone on the street gathers, empty bowls and soup spoons in hand, to share a meal. Some bring salads and desserts, bottles of wine, or just their appetites. Everyone takes a turn hosting. It builds community in a wonderful and tasty way. Whether you want to start your own neighborhood Soup Night, or just partake of the recipes, this book will warm your insides.
The Pho Cookbook: Easy to Adventurous Recipes for Vietnam's Favorite Soup and Noodles by Andrea Quynhgiao Nguyen
Okay, it doesn't fit the Scandinavian theme, but for my money, there is NOTHING better than pho in the cold winter months. Pho—pronounced "fuh"—is a Vietnamese soup of (usually beef, sometimes chicken) broth, rice noodles, onions, and meat, and is served with a tray of add-ins such as Thai basil, bean sprouts, lime wedges, and jalapeños or Thai chilies and sauces such as Sriracha and hoisin. It's especially good if you're sick. The spice will clear those sinuses right out! Pair a bowl of pho with a hot pot of jasmine tea, and the winter blues will melt away.
Some Like It Hot 50 drinks to warm your spirits by Holly Burrows
This book has just about every warm drink you could possibly want, both alcoholic and virgin, from hot chocolate to hot toddies, spiced chai to mulled wine. If this doesn't inspire you to throw a winter cocktail party, I don't know what will. And what better way to beat the winter blues than with cozy drinks and lots of friends?
Tea & Crumpets: Recipes and Rituals from European Tearooms and Cafesby Margaret M. Johnson
If you don't know the difference between a crumpet and a scone—but you'd like to!—this is the book for you. It begins with a short history of tea and the rituals surrounding it, and then it gets straight to the recipes. At the back, it even has a guide to some of the best European tearooms, perfect for those planning a trip (or those who just want to pretend they've been).
Sock Knitting Master Class by Ann Budd
There are plenty of how-to books on sock knitting out there, and this is a great one. In addition to step-by-step instructions and plenty of patterns, from basic to advanced, it comes with an instructional DVD for those of us who are visual learners (I'm convinced I never would have learned to knit if it weren't for YouTube). If you're looking to try your hand at sock knitting for the first time, this book is a great place to start.
Jorid Linvik's Big Book of Knitted Socks: 45 distinctive Scandinavian Patterns by Jorid Linvik
Crazy for colorwork? This is the sock knitting book for you! These bright socks will keep your spirits high and your tootsies warm all winter, for sure. From traditional Scandinavian designs to fun modern ones, there is something for everyone in this book (even a few basic socks and solid colors, for your more boring—er, sedate—friends and loved ones).
30 Slippers to Knit and Felt: Fabulous Projects You can Make, Wear and Share by Arne Nerjordet and Carlos Zachrison
This book introduces Arne and Carlos (no last names) like they're Norwegian rock stars instead of knitting designers, so right away, I'm here for it. If the photography in the book is to be believed (as well as the multiple chapters devoted to moccasins) A&C are also a wee bit obsessed with Native American designs. It makes for an interesting combination. If you're new to knitting, these patterns would be a wonderful intro to socks. They are knit with thicker yarn and bigger needles than traditional socks, and because they are slippers, there is more room for error in the fit than with in-the-shoes socks.