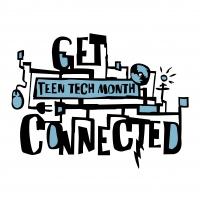 Teen Tech Month 2019
The Metropolitan Library System is working to inspire Oklahoma teens to explore, create and share by celebrating Teen Tech Month throughout March.
Metro Libraries will be hosting programs that showcase the technology-based learning available through the library to help teens prepare for college and careers by ensuring they are skilled and ethical technology users. The programs inspire teens to explore science, technology, engineering, art, math and much more.
Events will include robotics, coding, circuitry and art-themed learning. Attendees will have the opportunity to use technology learning tools including Snap Circuits, Sphero Robots, BristleBots, Raspberry Pi, Paper Circuits and soldering tools.
Occupations in science, technology, engineering and math (STEM) make up over six percent of all occupations in the United States. Workers in these fields earn higher wages, and degree holders in STEM fields earn 12 percent more than non-STEM degree holders, according to a March 2017 report from the US Department of Commerce.
The library recognizes a need for today's teens to begin learning skills in STEM early. The number of students pursuing degrees in STEM fields has declined but STEM jobs are growing twice as fast as jobs in other fields, according to a Young Adult Library Services Association report.
Oklahoma has seen a 24 percent uptake in STEM employment since 2016, compared to the national STEM employment growth rate of 10 percent, according to the U.S. Bureau of Labor Statistics. The Metropolitan Library System celebrates Teen Tech Month to spark an interest in Oklahoma teens. The library creates STEM programs that are fun and engaging as well as educational.