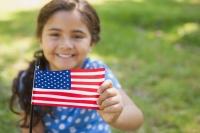 Voting: A Family Affair
Election season is upon us and there's a good chance your little ones have noticed. From yard signs and to canvassers knocking on your door, the political climate is brewing just as intensely as the fall winds. Involving children in the voting process is a great way to develop a sense of citizenship at a young age. There's a good chance your children have already participated in a vote: voting for which movie to watch, or whether to buy chocolate or vanilla ice cream at the store. This can be a great starting point to discuss political voting. Just as families vote for a movie, so do citizens vote for their political leaders. Here are some talking points paired with book titles to help facilitate the conversation.
1. What is an election?
When a group of people votes, it is called an election. In an election for a government job, the people who want the job are called the candidates. On election day people usually go to a polling place to vote. At the polling place, people vote for their favorite candidate. They use a machine to make their choice, or they mark their choice on a form called a ballot. Everyone's choice remains secret. The candidate with the most votes usually wins the election. Britannica Children Library
Amelia Bedelia's first vote by Herman Parish
Amelia gets to vote on rules to implement at her school. She learns about casting a ballot, counting votes, and the importance of participation. This is a great primer on the election process.
2. Who can vote?
Every country that holds elections sets its own rules about who can vote. Today most countries allow nearly all adult citizens to vote. Sometimes people who have committed serious crimes cannot vote. People who have certain mental disabilities sometimes cannot vote either.
In the past, many countries allowed only white men to vote. In the United States, African American men gained the right to vote in 1870, after the end of slavery. It was still very hard for African American men to vote. They had to take reading tests and pay money (called a poll tax) to be able to vote. The Voting Rights Act of 1965 made those restrictions illegal. Britannica Children Library
Granddaddy's turn: a journey to the ballot box by Michael S. Bandy
Michael follows his grandfather to the ballot box, only to find his grandfather turned away on account of a literacy test. This moving picture book depicts the many restrictions faced by African Americans and includes some historical facts at the end for readers to gain a fuller understanding of the Civil Rights Movement.
Lillian's right to vote : a celebration of the Voting Rights Act of 1965 by Jonah Winter
Based on the true story of Lillian Allen, this picture book opens with elderly Lillian walking up a hill to cast a ballot. As she climbs the hill, she remembers her great-great grandparents being sold as slaves and the many obstacles that her family members had to overcome to reach the right to vote.
There was also a time during which women could not vote. In the United States, the women's rights movement grew out of the abolitionist, or antislavery, movement. Many Black women, like Sojourner Truth and Ida B. Wells, laid the groundwork for women's suffrage long before the movement formally organized. Lucretia Mott and Elizabeth Cady Stanton were abolitionists who led the first women's rights convention. It was held in Seneca Falls, New York, in 1848. Victory finally came in 1920, when the 19th Amendment to the U.S. Constitution was passed. It gave women the right to vote nationwide. Britannica Children Library
Ida B. Wells: let the truth be told by Walter Dean Myers
Award-winning author Myers tells the story of legendary civil rights figure Ida B. Wells, who fought to make the lives of African Americans better long before the events of the 20th century.
So tall within: Sojourner Truth's long walk toward freedom by Gary D. Schmidt
This beautiful, brand new biography of Sojourner Truth traces her vision and fight for freedom.
Marching with Aunt Susan: Susan B. Anthony and the fight for women's suffrage by Claire Rudolf Murphy
Based on the true story of Bessie Pond, "Marching with Aunt Susan" follows the story of a young girl who attends a suffrage rally led by Susan B. Anthony. She is inspired by the suffragettes in her midst and actively campaigns for women's right to vote in California.
Around America to win the vote: two suffragists, a kitten, and 10,000 milesby Mara Rockliff
This book follows suffragettes Nell Richardson and Alice Burke's cross-country journey to campaign for women's right to vote. With vibrant colors and clear, simple text, this book is great for the K-3 crowd.
Miss Paul and the president: the creative campaign for women's right to vote by Dean Robbins
The story of suffragette Alice Paul and her campaign to win women the right to vote.
3. How do people run for office?
These two picture books illustrate the process of campaigning in a way that is relatable to children. And who knows? It might inspire them to run for office as well!
Grace for President by Kelly DiPucchio
Grace campaigns for president of her grade, but when her competition seems to have the support of all the male voters, she must use all her campaigning skills to win them over by showing that she is the best person for the job.
Monster needs your vote by Paul Czajak
Election season is here and Monster is ready to vote! But why cast your ballot when you can run for president instead? With speeches, debates, and a soapbox or two, Monster's newest tale is a campaign encouraging kids to take a stand and fight for what they believe in.
Be sure to check out our database Britannica Children's Library for more profiles of suffrage heroes written in kid-friendly language!