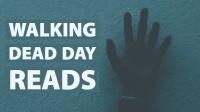 Walking Dead Day Reads
Ghouls, revenants, the infected, the undead, the walking dead, shamblers, reanimated corpse…all are ways to say ZOMBIE!!  On October 13th it's Walking Dead Day!  A day in which we celebrate not only the TV show, but the comic/graphic novel, which is celebrating its 15th anniversary!  So in honor of The Walking Dead, here's a list of library items that will help keep your Zombie spirit alive…well, sort of.
The Walking Dead: Compendium One by Robert Kirkman and Tony Moore
This book is one of the reasons why there is a Walking Dead day. The Walking Dead is an ongoing black and white series that follows former Kentucky sheriff Rick Grimes and other survivors as they try to survive the Zombie apocalypse. The Walking Dead: Compendium One covers issues #1 – #48 of The Walking Dead comic. You can also read Walking Dead Comics on Hoopla with your library card.
The Zombie Handbook by Robert Curran
DO ZOMBIES EAT BRAINS? CAN THEY TAKE OVER THE WORLD? CAN YOU AVOID BECOMING ONE? What do you know about the Living dead? Here's a perfect pocket reference for anyone who might need to spot and outwit zombies, mummies, golems and other reanimated night walkers. The Zombie Handbook explains how to identify a zombie, survive an attack, and ultimately defeat the undead hordes. Packed with sound practical advice, true-life encounters, and a world history of these drooling brain munchers, the little book is a must for everyone who wants to know the truth about the undead.
The Walking Dead: The Complete First Season (DVD)
Loosely based on the comic of the same name, the first season of the television series follows Sheriff Rick Grimes as he awakens from a coma to find that the world is filled with zombies and other dangers. The first season is only 6 episodes, so you can probably binge it in one day! Starring Andrew Lincoln, Jon Bernthal, Sarah Wayne Callies and Chandler Riggs.
Warm Bodies: A Novel by Isaac Marion
Zombies in love! Okay…only one is a zombie, but who knew that zombies could fall in love, you know with the whole being "dead" thing holding them back. In summary, a zombie named R shambles around until he meets a human girl, falls in love and turns his life around. There is also a movie of the same name available, starring Nicholas Hoult and Teresa Palmer.
World War Z by Max Brooks
"It began with rumors from China about another pandemic. The reports were fragmentary and confused. A world still reeling from bird flu and limited nuclear exchanges had had enough of apocalypse. Most people just wanted to rebuild their lives. Then the cases started to multiply and what had looked like the stirrings of a criminal underclass, even the beginnings of a revolution, soon revealed itself to be much, much worse." Based on extensive interviews with survivors and key players in the ten-year fight-back against the horde, "World War Z" brings the very finest traditions of American journalism to bear on what is surely the most incredible story in the history of civilization. Also check out the movie starring Brad Pitt!
The Passage by Justin Cronin
In a world that has started to go mad, young Amy is pursued and imprisoned by shadowy government figures and only Agent Wolgast, who was sent to bring her in, has protected her but what can he do when the world goes mad? With experiments gone horribly wrong and the world flung into an apocalyptic nightmare, Amy has to walk the world alone feeling that only she can save the world. "The Passage" is part one in a trilogy
21st Century Dead: A Zombie Anthology by Meghan March
The Stoker-award winning editor of the acclaimed, eclectic anthology The New Dead returns with 21st Century Dead, and an all-new lineup of authors from all corners of the fiction world, shining a dark light on our fascination with tales of death and resurrection... with ZOMBIES! It includes stories by Orson Scott Card, Jonathan Maberry, Simon R. Green, Duane Swiercyznski, Caitline Kittredge, Kurt Sutter and more.