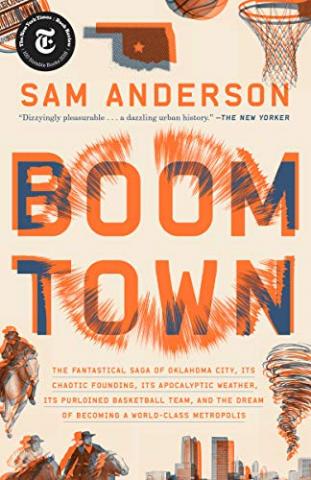 Bestselling Author of Boom Town to Visit OKC Library
BESTSELLING AUTHOR OF BOOM TOWN TO VISIT OKC
OKLAHOMA CITY – Sam Anderson, bestselling author of Boom Town, an urban history of Oklahoma City, will visit the Metropolitan Library System this spring.
The event will be held April 20 from 1:30 p.m. to 3 p.m. at the Metropolitan Library System's Ronald J. Norick Downtown Library. The event will include an author talk followed by time for open questions. Anderson will be joined by Ponca City native Brian Phillips, author of the recently published book of essays, Impossible Owls.
Local bookseller "Commonplace Books" will have copies of Anderson and Phillip's books available at the event. Attendees will have the opportunity to get their copies signed following the event.
Registration for the author talk is required and will open April 6 at metrolibrary.org/boomtown. Other festivities will include a storytime, Oklahoma history talks and a panel discussion on historical preservation.
"Boom Town is already loved by many Oklahomans," Engagement Manager at the Downtown Library, Judie Matthews said. "We are happy to have the opportunity to host authors Sam Anderson and Oklahoma born Brian Phillips at our library."
Before publishing his debut best-seller Boom Town in 2018, Anderson began his writing career doing freelance pieces for Slate magazine. He continues to write book reviews for The New York Times in addition to personal essays. Some of his notable personal essays include "Re: Re: Re: Re: Re: Joyce," a literary travelogue and "In Defense of Distraction," an opinion piece on the technological age we live in.
Schedule of Events:
10 – 11 a.m. Storytime: A New Look at the 89er Land Run
10:45 – 11:45 a.m. Reconstruction and its effects on the Seminole Nation
12 – 1 p.m. Urban "Renewal" and the Destruction of OKC's Northeast side
1:30 – 3 p.m. Sam Anderson & Brian Phillips Author Talk
3 – 4:30 p.m. Book Signing
3:15 - 4:15 p.m. Saving Today's OKC- Panel Discussion on current historical Preservation
###
About the Metropolitan Library System
The Metropolitan Library System is a public library system serving Oklahoma County residents. MLS includes 19 library branch locations. The Metropolitan Library System is the largest library system in Oklahoma, serving anyone who lives, attends school, or owns property in Oklahoma County. MLS circulates over 6 million materials each year.