About Being Oklahoma
Being Oklahoma: Exploring the Threads that Define Us is a regional arts partnership designed to celebrate arts practices of Oklahomans. The goals of the program are:  
To amplify the work of cultural and traditional artists that exist in diverse communities throughout Oklahoma. This includes but is not limited to traditional songs, music, and dance; storytelling, beadwork ,leather work, basket weaving and woodworking.

To reach and serve established and emerging traditional artists from rural and underserved communities. 
This is a project of the Oklahoma Arts Council, National Endowment for the Arts, and the Metropolitan Library System, seeking to highlight the traditions, cultural practices, and create work that often gets overlooked by the mainstream arts industry. 
The selected artists for this project have shared their work with thoughtfulness, graciousness, compassion, and joy. Their dedication and advocacy for their practice and community are clear. 
Beverly Kirk is an expert quilter whose project tells parts of African American history through fabric work. One of her ideas for a tie-in program is for the library to issue a call to photograph and document "our ancestors quilts,"specifically vintage work before 1930, from creators of any race of nationality. This is one example of the ways this project will bring together voices from the community around the themes of storytelling and preservation.
Francisco Trevino is an educator and musician. His project shares traditional children's songs from Mexico and Central America and provides context and history to share these cultural traditions. His live performance in April at our library in the heart of the Hispanic community will be a celebration of ancestral music and bring families together. 
Meet the Artists
Beverly Kirk is a native Oklahoman born in Chickasha and believes her life story to be "a delightful inheritance" (Psalm 16:6b). Beverly was born on the same date as her grandmother, Sipuel, a civic leader and skilled seamstress who tended to baby Beverly's birth arrival in the Chickasha home place. 
Beverly love of textiles… the fabric, color and texture came to light with the death of her father in 1997.   Enveloped in the grief experience, she quilted two intricate pillows from his collection of fancy neckties. Quilting remains therapeutic in the steady hum of her sewing machine. 
Today, her quilting style is one that thrives on breaking most of the rules she meticulously took the time to learn from a long list of acclaimed quilters. Thus, her quilted artwork ranges from traditional blocks in bold African colors to the modern improvisational styles. Foundation Paper piecing is her passion.  
Beverly is truly at peace and all smiles in her retirement whenever she's teaching techniques or long-arm quilting, lecturing on African design, or designing quilts or being with friends. Beverly enjoys giving quilts, pillows and poetic wall hangings, taking care of her health, tending her flowers and wishing for worldwide travel adventures! 
"REMEMBER: everyday is sew very special"
Francisco J. Treviño was born in Monterrey, México, and immigrated with his family to Tulsa, Oklahoma at the age of 11, and has lived here ever since. 
An artist at heart, Francisco self-taught himself to play guitar at the age of 13, in order to play his favorite classic rock music. A singer and songwriter, his Mexican heritage has strongly influenced his style, particularly after the age of 21, when he learned huapangos and other Mexican styles from local musicians. He used this influence in his second LP of children's music, recorded in Veracruz, México in 1995, with the help of local traditional folk artists and musicians. 
Francisco has always been an avid supporter of the arts, particularly those that showcase Hispanic culture. With this in mind he was part of the Arts and Humanities Council's Artist in the Schools program for 15 years, teaching Mexican culture and music in Tulsa and Northeast Oklahoma classrooms. His commitment to showcasing Hispanic culture and music to the community.
Francisco's focuses on traditional children's songs from Mexico and Latin American countries.
Harriet Powers Downloadable Kit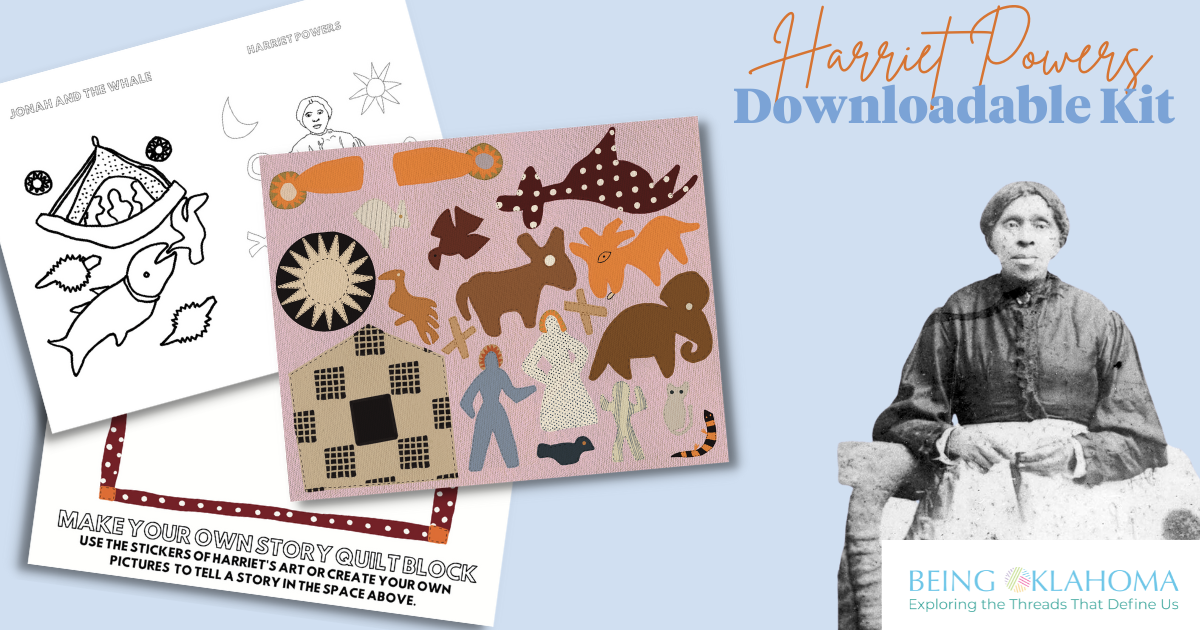 Harriet Powers who was born into slavery used her quilts to tell the story of both her daily and spiritual life. Her most famous quilt depicts scenes of the Bible along with local folktales of her community. Her quilts were truly poetry in motion.
This kit features postcards with imagery of Harriet Powers' quilt blocks.  Beverly Kirk, one of our Being Oklahoma featured artists, is focusing her talents on telling Harriet's story.  You can join her on this journey by downloading this kit. 
Download Kit