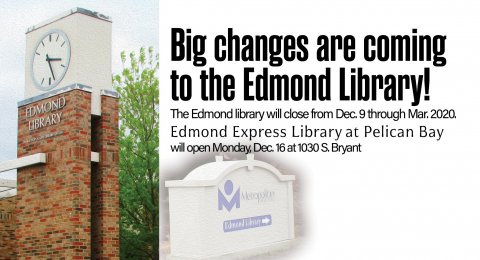 EDMOND LIBRARY RENOVATIONS TO BEGIN IN DECEMBER
EDMOND, OK– Renovations to the Edmond Library will begin next month, improving the popular library's energy efficiency with an all new HVAC system, roof, carpet, ceiling and LED lighting. The Metropolitan Library System's Edmond Library will close on Dec. 9, 2019 and renovations will continue through Mar. 2020.
The temporary Edmond Express Library at Pelican Bay location, where Edmond Library customers can pick-up holds and return items, will open Dec. 16 at 1030 S. Bryant near Hafer Park.
The Edmond Library opened in 1967 and moved to its current location in 1973. In 1996, Edmond voters approved funding to expand the Edmond Library, adding 10,000 square feet and additional parking. The renovation was completed in 2000 and the expanded space included the Fred P. Snyder Quiet Reading Room, a special children's area, more meeting room space, a room for events, a "teen corner" and new furnishings.
FoxEdReno from metrolibrary on Vimeo.