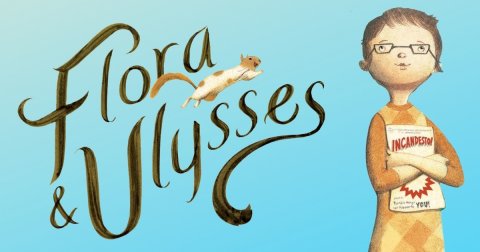 Holy Bagumba! Flora and Ulysses Read Alikes
by Allie, Children's Librarian at Belle Isle Library
In the words of Flora, "HOLY BAGUMBA!" Flora and Ulysses: The Illuminated Adventures by Kate DiCamillo will debut as a movie on Disney+ on February 19th. This laugh-out-loud story is filled with eccentric, endearing characters. The tale centers on Flora Belle Buckman, a self-described cynic, who saves a squirrel from a vacuum cleaner. In an unexpected occurrence, this squirrel (Ulysses) has been born anew, with powers of strength, flight, and misspelled poetry. These two go on an adventure to discover hope and what it means to be a superhero. If you haven't read this delightful read, you can check it out now as an eBook on Hoopla and Libby, or pick up a physical copy at any of our 19 library locations.
After finishing the novel and the Disney+ movie, I am sure you will be itching for more tales of Flora and Ulysses. While Kate DiCamillo, hasn't written such adventures for us, below are some read-a-likes that would have even self-described cynic, Flora, filled with hope.
The One and Only Ivan by Katherine Applegate. Although Flora & Ulysses is more humorous, this animal-centered tale will appeal to Flora & Ulysses fans. Ivan, the gorilla, (like Ulysses the squirrel) is courageous and poetic despite his humble circumstances. This is another book that has been adapted to a movie on Disney+. After reading the book, grab some popcorn and check out the movie! Applegate has also written a companion novel, The One and Only Bob.
Lila and Hadley by Kody Keplinger. Like Flora & Ulysses, Lila and Hadley centers on a bond of friendship (one with a squirrel, the other with a dog) and how this bond changes the main character's outlook on life. Hadley feels as if she's lost everything, and now she's losing her sight. With her mom in prison, she must move to Kentucky to live with her estranged older sister. While at a dog rescue, she meets Hadley, a dog considered to be unadoptable. The two's bond changes both of their lives forever.
The Lonely Heart of Maybelle Lane by Kate O'Shaughnessy. Eleven-year-old Maybelle Lane goes on an adventure to re-unite with her estranged father, but the people who take this adventure with her are not who she expects. Both stories feature eccentric, but lovable characters. Flora and Maybelle share the same tenacity and they both learn that the best kind of family is the kind you choose for yourself.
This Was Our Pact by Ryan Andrews. This stunning and gripping graphic novel would have Flora saying, "Holy Unexpected Occurrence!" as every page is filled with astonishing characters and adventures. This magical realist-adventure focuses on Ben who makes a pact with his classmates to follow the paper lanterns down the river that the town sets afloat at the Autumn Equinox Festival. Legend has it that after drifting out of sight, they'll soar off to the Milky Way. The plan is to follow the river on their bikes for as long as it takes to learn the truth, but it isn't long before the pact is broken by all except for Ben and Nathaniel, the one kid who just doesn't seem to fit in. Together, Nathaniel and Ben will travel farther than anyone has ever gone, down a winding road full of magic, wonder, and unexpected friendship....with a talking bear.
Mr. and Mrs. Bunny: detectives extraordinaire! by Polly Horvath. This hilarious read captures the same wit and satire that is beloved in Flora & Ulysses. The story begins when fifth-grader Madeline's hippie parents Mildred and Flo are kidnapped by a band of foxes in trench coats who have learned all about "hoomans" from studying sitcoms. As the hyper-responsible Madeline contemplates her parents' plight, she's discovered by Mr. and Mrs. Bunny, bunny detectives, who are only too delighted to help Madeline find her parents. The story of Madeline's budding relationship with the refreshingly nurturing Bunnys and their joint endeavor to find Madeline's hopeless parents propel this fun adventure.
Nuts to You by Lynne Rae Perkins. In both Flora & Ulysses and Nuts to You, readers are introduced to likeable squirrels that overcome adverse circumstances. One squirrel receives the help of friends while trying to make it back home; the other discovers new friends and abilities after a dangerous encounter with a vacuum cleaner. This realistic-feeling fantasy will satisfy Flora & Ulysses fans.
Coo by Kaela Noel. Ten years ago, an impossible thing happened: a flock of pigeons picked up a human baby who had been abandoned in an empty lot and carried her, bundled in blankets, to their roof. Coo has lived her entire life on the rooftop with the pigeons who saved her. Tully, a retired postal worker, finds Coo and coaxes Coo to live with her. Living with Tully, Coo experiences warmth, safety, and human relationships for the first time. But just as Coo is beginning to blossom, she learns the human world is infinitely more complex--and cruel--than she could have imagined. Coo and Flora & Ulysses examine the bonds that make us family, the possibilities of love, and the importance of being true to yourself.
And of course don't forget to check out all of the amazing books that the author of Flora & Ulysses (Kate DiCamillo) has written.
Reflection Questions
After reading Flora & Ulysses and watching the movie adaptation on Disney+, it can be fun to compare and contrast the book and the movie. Below are some questions to prompt discussion
Did you enjoy the book or the movie more? Why?
Did the main characters look and act like you expected? Why or why not?
Whose point of view do you agree with more – the author of the book or the director of the movie?
Were there any characters that were in the book and not in the movie? Or vice versa? Did you miss those characters? Did the new characters add anything to the story? Why or why not?
Think about the scenes that the movie changed so that they were different from the book. What scenes do you wish hadn't been changed? What scenes were better because of the change?
Do you think the people who made the movie did a good job of portraying the book? Why or why not?
No matter how you enjoyed the movie, we hope you enjoy these recommendations! Looking for more recommendations? Check out our Tailored Titles to get personalized reading lists from one of our skilled librarians.