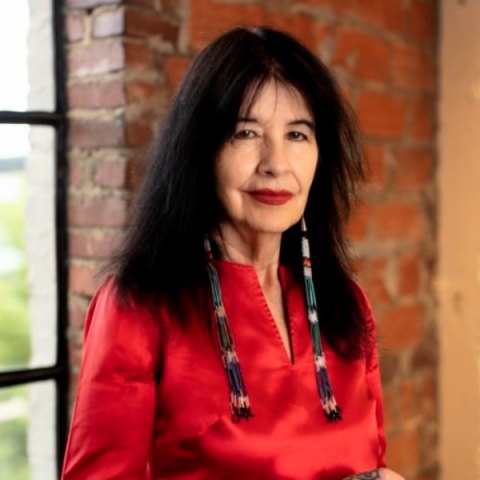 5 Ways to Become a Joy Harjo Superfan
by Victoria, Marketing and Communications
There is absolutely no question that Joy Harjo has captured our attention. Everything from the gracefully raw way that she leads our literary senses as the U.S. Poet Laureate to how she teaches us about real history and the historical experiences of Indigenous peoples that many of us did not learn in history class. Joy Harjo has a way of exposing our every emotion.
Maybe you've never read poetry and you've clicked on this article thinking, I can learn more about the US Poet Laureate and perhaps even start reading a little poetry. You've come to the right place. It's really not difficult to become a superfan of Harjo's work because her work is compulsively readable. Harjo's work can easily captivate your attention while simultaneously reaching into your soul and tiptoeing into the recesses of emotion you didn't know existed.
You don't have to take our word for all this, either. You can hear directly from Harjo about her works when we host her for our National Poetry Month author visit at 2 p.m. Sunday, April 25, on Facebook Live (add it to your calendar here).
What do you need to know about poetry to read her work? Nothing, really. Harjo writes her own unique brand of free-verse poetry, which is basically a type of poetry that's non-rhyming but uses natural rhythms of speech. The rhythm she uses in her poetry is smooth and goes down easy. No Ph.D. required.
Another important thing to note about Harjo is her background. She grew up right here in Oklahoma. Harjo was born in Tulsa, Oklahoma, and is a member of the Muscogee (Creek) Nation. However, she's lived other places too, including New Mexico, Arizona, Colorado and Hawaii. She also has strong musical ties as a saxophonist and vocalist. Each of these places and experiences have impacted her writing.
What does Harjo write about, exactly? Well, just about anything that impacts her life. She's open and raw in how she expresses the ups and downs of everyday life in her works. She weaves together politics, history, Indigenous tradition and life experience.
As we ramp up for Harjo's visit, we asked two superfans why they fell in love with her work in hopes that you might too.
Our Harjo Superfans:
Kimberly Wieser
Wieser is an undergraduate director and associate professor of English, Native American studies and environmental studies at the University of Oklahoma. She's a Joy Harjo superfan because she says her work is relatable on so many levels.
Lisa Coker
Coker is a collection development librarian at the Metropolitan Library System. She said Harjo's work connects her with her Native American heritage and speaks to her emotions.
1. Get to know Joy Harjo
Harjo is a human just like the rest of us, but she has a special ability to share her experiences in a way that gives beauty to everyday life and an ability to tackle tough topics that bring a lump to your throat. Her work is first and foremost relatable. Whether you relate to her as an Oklahoman, a Native American, a mama, a grandma, a wife, a musician, a historian, a storyteller… the list goes on.
"She is a leading voice," Wieser said. "You can watch a woman's life through the trajectory of Joy Harjo's work."
Wieser suggests you read Harjo's works in order of publication to get a real sense of her growth and life that has molded her into the spiritually mature voice that she is today. But if that's too big a commitment, she suggests starting with Harjo's book, "Conflict Resolution for Holy Beings."
"It is really a roadmap for the soul. She takes pain and does not turn it into anger. She is a voice that is mature and reaches towards spiritual healing. It's also relevant for what we are experiencing in the world today."
2. Read slowly and with an open heart
Not only does Harjo put a lot of heart on the page for her reader, but she also tackles some very important social and political issues in society today. Harjo's works are written in free-verse and some of them have an essay-like feel. She also includes further context with snippets of facts weaved into her works.
"As a woman and a mother who is also of Muscogee Creek and other descent, I feel a personal tie to her words," Coker said. "My maternal grandmother and her sisters went to Haskell Indian School. … I grew up feeling a little lost, not knowing exactly where all of my relatives were from, wondering if their loved ones suffered on the Trail of Tears, what they did and how they lived before leaving their native lands to come to Oklahoma."
While a history or literature degree is not necessary to be a Joy Harjo fan, readers may find themselves asking follow-up questions. There is no harm in doing some historical research to better understand the meaning of her words. Then go back and re-read to experience Harjo's work with new eyes.
"She does not flinch from dealing with history," Weiser said. "She celebrates culture and beauty she finds along the way."
3. Listen to the music in her words
Harjo is a musician, and her poetry has a rhythm all its own. Harjo is a woman of many talents, including music. She incorporates her poetry into her music and vice versa. She learned saxophone as a way to further express herself and her poetry.
"Harjo primarily writes free verse but it is heavily influenced by the patterns and rhythms of American Indian music, jazz and other elements of music," Weiser said. "She has personalized the free-verse style of poetry to where there is a certain rhythm that is unique to a Joy Harjo poem."
Harjo's work can be found on Spotify. It's another great way to really connect with her poetry.
4. Appreciate her contribution to literature and Native American culture
Harjo is a huge part of the second wave of the literary Native American Renaissance. Her work has captured the hearts and minds of so many that the Library of Congress actually asked Harjo to serve a third term as U.S. Poet Laureate, which isn't common. She is only the second person to ever serve three terms, and the first female to serve three terms.
"Harjo's voice now during this crazy time is a voice we really need. Jonas Mekas said, 'In the very end, civilizations perish because they listen to their politicians and not to their poets,'" Weiser pointed out.
5. Consider reading works by other Indigenous writers
Here is a short list of Indigenous writers (some local) whose work may also resonate with you and deepen your superfandom.
Now that you're on your way to becoming a Joy Harjo superfan, it's only right for you to attend our author visit and hear from Harjo herself. Join us at 2 p.m. Sunday, April 25, on Facebook Live.