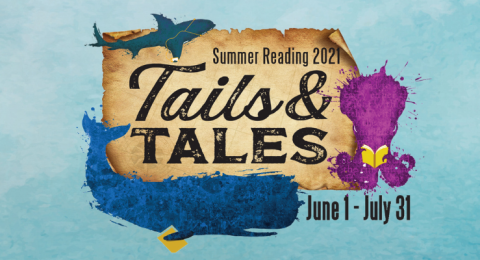 Top 10 Ways to Participate in the Summer Reading Program
by Victoria, Marketing and Communications
What does the Summer Reading program mean to you? While reading is an important part of participation, reading is not the only way to participate and earn points. If you are the parent or guardian of a reluctant reader or an adult participant who doesn't have a lot of time to read, there are other ways to participate and earn points.
 1. Check out a new genre
Are you a die-hard mystery reader? Or maybe you only read romance. Whatever your favorite genre may be, perhaps it's time for a change. Sometimes we need a break from the norm or a literary palate cleanser to rejuvenate our excitement for reading. Not sure where to begin? Check out our Tailored Titles reader services to get a personalized recommendation, watch our most recent book talks and more. 
2. Participate in a book club
We offer virtual books clubs for all ages and interests. Book clubs are a great way to branch out and expand your reading repertoire in addition to building relationships with a community of readers and engaging in rich conversation to explore new perceptions.
3. Try a virtual program
Learning something new has never been easier! Our libraries offer a variety of FREE virtual programs and hybrid take-home kit programs so you can participate from anywhere. Be sure to join us for one of our family-friendly Neighborhood Arts programs this summer with live performances both in-person and online from local performers including the Sugar Free Allstars, Lucas Ross and others. Literacy activities such as library programs count as five points toward your 600 point Summer Reading goal.
4. Check out an e-audiobook
Download the hoopla or Libby app to find e-audiobooks you can enjoy from anywhere at any time! Audiobooks do count as reading! So, get your reading in on your morning commute, while you do chores or while doing a relaxing stress relief activity.
5. Read something written by someone of color
In these divisive times in our country and our community, it's more important than ever to consider reading books from perspectives different from our own. Reading is proven to increase empathy. Ask your local librarian for a reading recommendation!
6. Check out one of our e-resources
We are always growing our digital collection, including 24/7 access to a variety of databases in different topics, including genealogy, academic research, crafts and hobbies, investments, history and more!
7. Create your own reading haven
Do you have a favorite reading spot? Creating a space where you feel comfortable and inspired, whether it's a favorite outdoor spot or a treasured reading nook in your home, can help you make reading a habit. Reading for just 20 minutes per day can help you reap benefits such as improved memory, heightened empathy, lower stress and more.
8. Try a writing prompt
Whether you're a published author, self-proclaimed writer or you've never liked writing before, writing can be a powerful tool to open your creativity! Some ways to engage in a writing literacy activity may include jotting down some of your favorite things about your current read, keeping a journal, writing a sentence each day about what you enjoyed in the day and more. You may be surprised how much you begin to look forward to these daily writing activities.
9. Check out our NEW Tailored Skills program [COMING SOON!]
Have you thought about trying to learn to play the guitar? Or you want to find out how you can start your own business but don't know where to begin? Soon we will launch a new Tailored Skills program that provides up-to-date vetted information on just about any skill you're interested in, straight to your email inbox!
10. Exchange reading suggestions with a friend
Forming relationships with fellow readers is an indispensable experience! Simply asking a friend what they have read can help you branch out and try a new genre or dive into a new topic area. Discussing the plot or interesting points to shared favorites can also help you internalize what you have learned and begin to understand deeper meanings within a book.
If any of these reading-related activities sound exciting to you, be sure to register for our annual Summer Reading program. To learn more about the program and get registered, visit our web page.