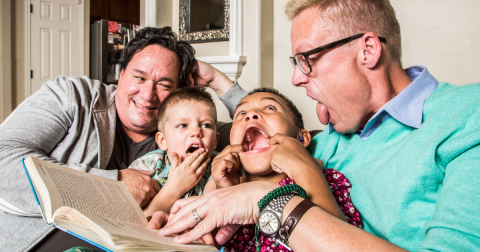 The Summer Slide 
Emily Williams, Teen Services Manager and Kristin Williamson, Children's Services Manager, Outreach and Engagement Services 
The Summer Slide isn't a new feature at the local park or splash pad. No, the Summer Slide is what happens between school years when young people do not read or otherwise work to retain what they learned in school. 
On average, children who do not read during the summer lose approximately two months of their reading achievement. They typically score lower on standardized tests at the end of the summer than they did on the same test at the beginning of the summer. And these few months of reading loss accumulate over the years. By the time students reach middle school, those who haven't read during the summers may have lost as much as two years' worth of achievement! 
The good news is the Summer Slide is easily prevented. 
  
HOW DO I PREVENT THE SUMMER SLIDE? 
Reading for just 20 minutes a day helps kids maintain the reading skills they developed during the school year. Not only will it help them stay on track when school starts back, but with reading they can experience a summer of adventure by stimulating their imaginations. 
Signing up for the Summer Reading Program is the best way for your child to keep reading over the summer. Summer Reading starts June 1 and continues through July 31. 
WAYS TO BEAT THE SUMMER SLIDE 
Have your children pick out their own books and take the books with them everywhere they go: road trips, the doctor's office, grandma's house. Listen to audiobooks at night or in the car. Listening to audiobooks or listening to someone read aloud benefits everyone. Reading aloud helps build vocabulary skils while listening builds vocabulary and listening comprehension skills, and also increases our knowledge. 
Adults can model lifelong learning by participating in the program with their children, grandchildren, neighbors, friends. Help your children prevent the Summer Slide by reading 20 minutes a day this summer! Sign up, track your reading, and earn incentives. 
Whether you visit relatives, enjoy a week at camp, or have a staycation at home, make summer even more fun by reading a little everyday! 
 
MORE WAYS TO BEAT THE SUMMER SLIDE! 
Read every day. Read non-fiction, fiction, eBooks, poetry, or newspapers or read out loud for at least 20 minutes a day! 

Cook with your children. This is one of the best ways to integrate math, reading and following directions. Help your child put together their favorite recipes in a cookbook or let your child design the menu for a meal. 
Plant a garden. Your child will learn responsibility and take pride as they watch their plants grow and thrive. 

Take a field trip. Head out to a museum, zoo or local park with walking trails. Keep a journal about your travels. 

Learn a new word each week. Hang it on the fridge and see who can use it the most times throughout the week. 

Enroll in our summer reading program as it will provide your child with opportunities to build their critical thinking skills. 

Play quick games with flashcards like Math War or Concentration to keep math skills sharp. 
Listen to audiobooks during your summer road trip. 

Take pictures and make a summer scrapbook. Encourage your children to write narratives to accompany the pictures. 

Make time to read. We can't stress it enough: if your child does nothing else this summer, make sure they read! 
Adapted from Stephanie Jefferson, founder of Little Scholars (www.littlescholars.com).