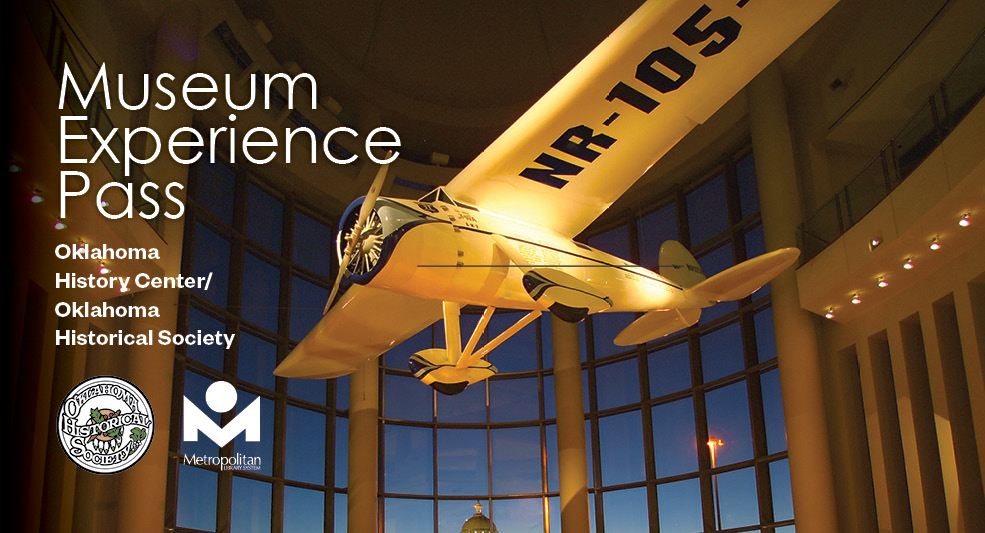 ABOUT OKLAHOMA HISTORY CENTER EXPERIENCE PASSES 
The Oklahoma History Center Experience Pass can be checked out from any of the Metropolitan libraries and includes a voucher for up to five people to the History Center and all other 23 affiliate sites located throughout the state. Each pass can be checked out for 7 days and provides general admission to Oklahoma History Center, but they do not provide admission to special exhibits. Passes cannot be renewed and must be returned to the library where they were checked out. Only one pass per household may be checked out at a time. No holds will be permitted on Experience Passes.  
HOW IT WORKS 
Passes can be checked out by calling the library at 405-231-8650 to ask about availability. If a pass is available, it must be picked up within 2 hours.   
ABOUT THE OKLAHOMA HISTORY CENTER 
The Oklahoma History Center is located on eighteen acres across from the Oklahoma State Capitol, the Oklahoma History Center is a beautifully designed exploration of Oklahoma—past to present. The 215,000 square-foot learning center includes five galleries and a Research Center. The Oklahoma History Center is a division of the Oklahoma Historical Society. The museum fulfills the Oklahoma Historical Society's mission through the application of the highest standards of collections care, the presentation of diverse exhibits, and multi-disciplinary educational programs. The Oklahoma History Center is also Smithsonian Affiliate. Through Smithsonian Affiliations, young people, families, and students are able to experience a piece of the Smithsonian—their national museum—through their own hometown museums. 
Get Inspired Before Your Visit