Attention:
Village Library parking lot is currently under construction. The library is open for business and curbside pickup is available all day!
Ralph Ellison Library is open reduced hours for Grab & Go service! We will be open Mon - Sat from 9 AM - 5 PM and Sun 1 - 6 PM.
Study Room E (Belle Isle)
Room Photo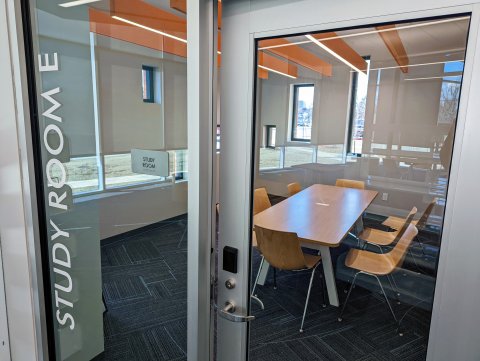 Library Branch
Belle Isle Library
Study rooms are free for a single use of up to 2 hours and can be booked up to 7 days in advance. Please note this is a stand-alone room on the south side of the building.
You may have only 1 active study room reservation (system-wide) at a time, and you must finish a reservation before booking a new one.
Equipment
This room has a whiteboard and a wall-mounted TV that supports an HDMI connection. 
Seating
This room has a permanent setup of conference style seating for 8 people.