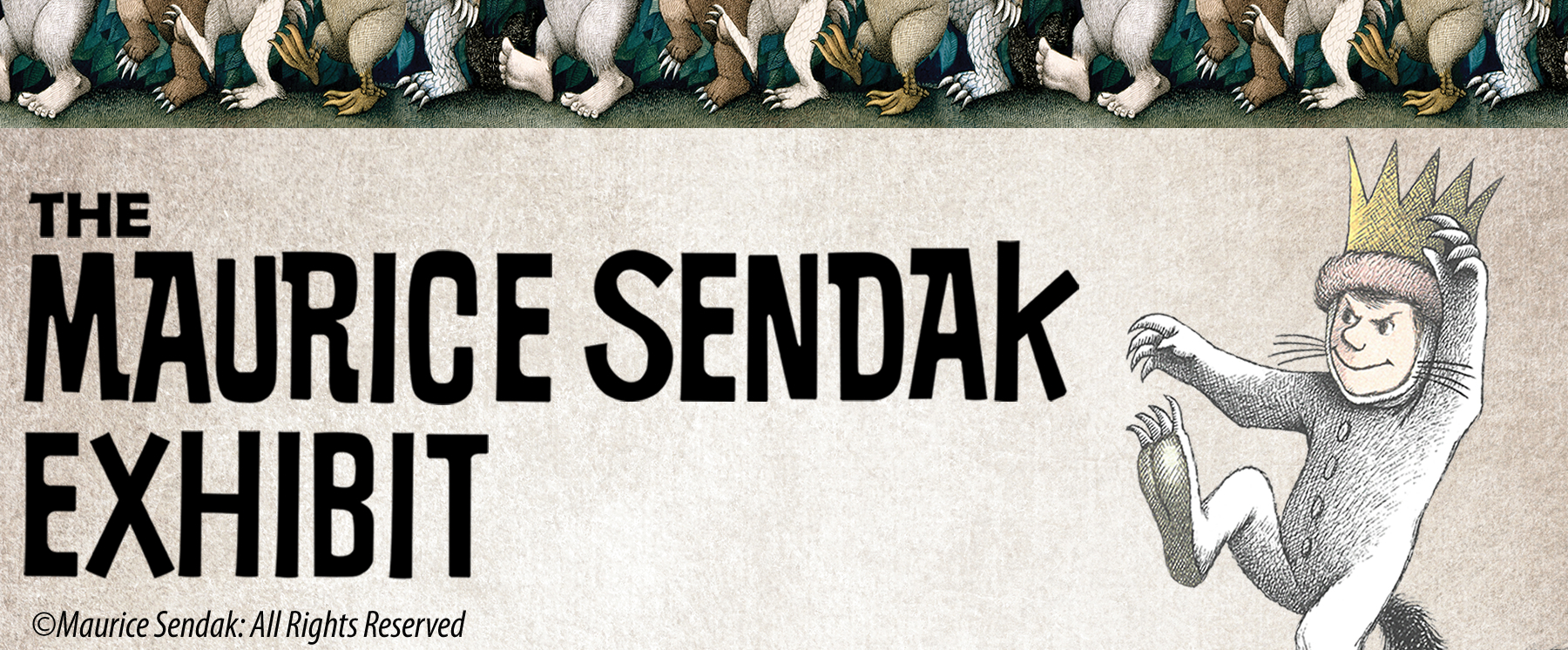 About the Exhibit
The Maurice Sendak Exhibit is a retrospective of original works by the beloved children's book illustrator and author of Where the Wild Things Are, Maurice Sendak.
The exhibit includes 50 of Sendak's works celebrating his heartfelt art. We encourage library customers of all ages and backgrounds to dive into the WILD world of Maurice Sendak this summer and enjoy his art exhibition as well as his books at the Library.
The art will be displayed in the atrium at the Ronald J. Norick Downtown Library from June 15 – July 9, 2019.
Sneak a Peak of the Exhibit Art
Special thanks to the lenders to the exhibition and to AFANYC for their support.
About Maurice Sendak
Sendak is the author of more than 20 books and the illustrator of over 80 books. He grew up in Brooklyn, New York and spent much of his time gazing out his bedroom window while drawing. Sendak's work is significant because of his use of surrealism in children's literature. When Where the Wild Things Are was released in the early '60s it was controversial for its dark thematic material for a children's story. Sendak chose to depict an imaginary world that was rooted in reality, because he believed in being honest with his young audience. He said he did not want to depict his characters as he thought they looked, but as he thought they felt. Sendak passed away in 2012, at the age of 83, from complications of a stroke. His art lives on in the heart of both children and adults around the world who have cherished his books.
WILD About Reading Summer Reading Program
The Summer Reading program (June 1 – July 31) gives children, teens and adults the opportunity to earn prizes while they read for fun and promote the importance of reading in our communities. We are excited for this year's theme to include Maurice Sendak, honoring his contribution to children's literature. It is our goal to get our customers truly WILD about their reading experience and we encourage you to join us for a variety of programs throughout the summer.
Learn More about Summer Reading
Making the Connection
Parents are encouraged to read some of Sendak's works to their child and talk about the familiar-looking art in the exhibition that they may recognize from his books. They may also want to engage with their child by asking questions about the characters and themes depicted in Sendak's books. Asking simple questions and listening is a great way to get your child thinking more deeply about a book or experience and a great way for parents to make memories with their children.
Planning Your Visit
You do not have to be a customer of the Metropolitan Library System to visit the exhibit; however, we would encourage you to sign up for a library card during your visit. Tickets are not required to get into the exhibit. Paid parking is available on the street around the library as well as in the Arts District Parking Garage across the street from the library. The exhibit is self-guided.
The Downtown Library is a stop for the Oklahoma City Streetcar. Fares start at $1 and allow you to visit Midtown and Bricktown.
While you're visiting the Downtown Library check out what other things are happening in the exciting Downtown OKC area:
Events @ the Downtown Library