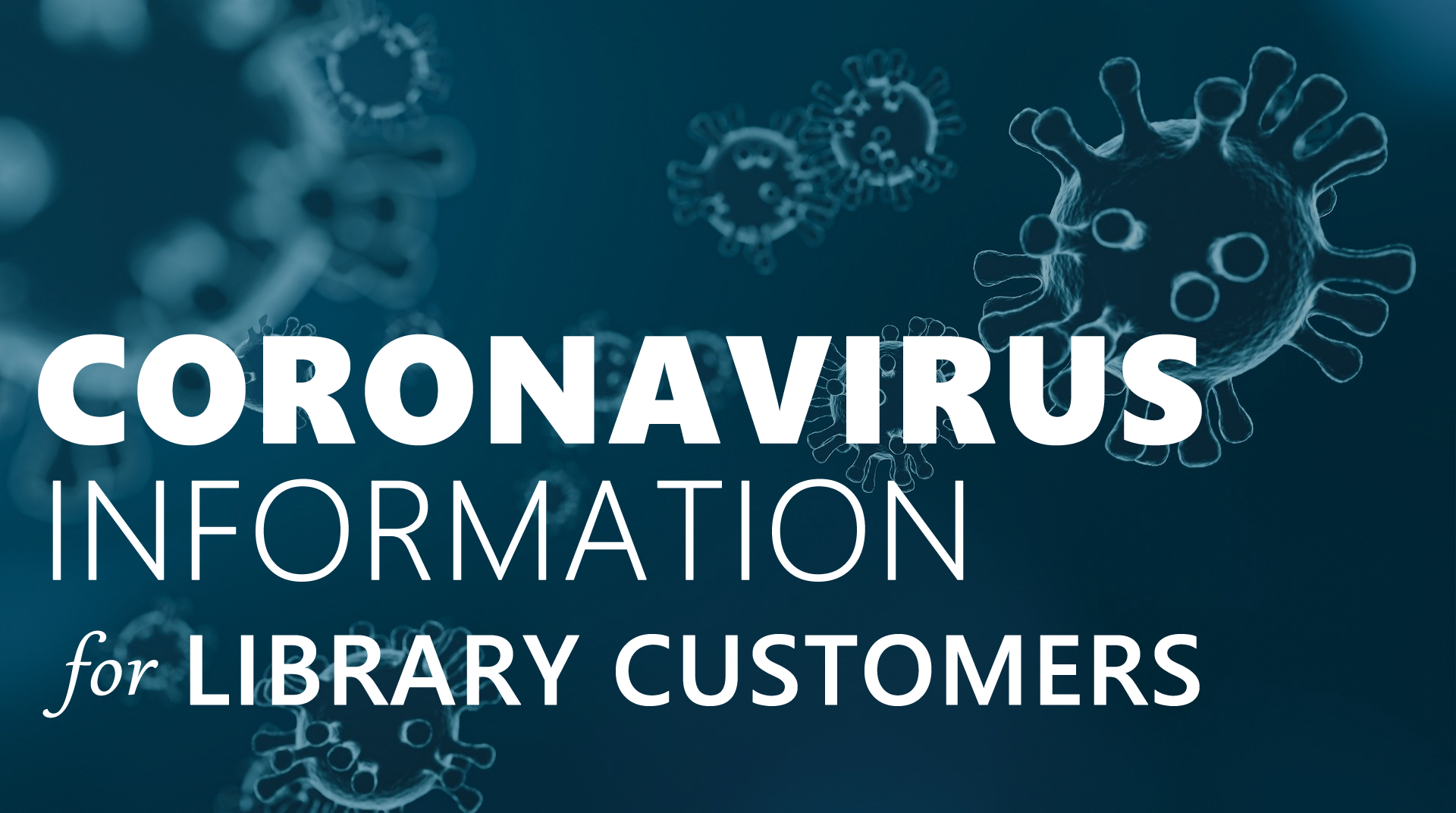 Page updated:  Saturday, March 28, 2020
Important Updates and Reminders
Libraries will remained closed through Thursday, April 30th
All ready holds will be kept until we reopen
No late fees will accrue (including ILL loans - no late fees)
We will change due dates for titles due while we're closed to after we reopen
No new holds can be placed while we're closed
No new ILL requests can be placed while we're closed
Please do not return titles while we're closed
Get free Wi-Fi from our library parking lots during our closure
Library outreach has been discontinued through the end of April 2020.   
Public meeting room reservations have been cancelled  through the end of April  2020.  
Volunteer opportunities  at our libraries have been suspended through the end of April 2020, including Friends of the Library volunteers.  
Book donations to our libraries and sort site have been suspended until the end of April  2020.  
The Metropolitan Library System (MLS) is actively monitoring the outbreak of the novel coronavirus COVID-19. Due to the COVID-19 outbreak, all library locations are closed through Thursday, April 30th.
Decisions like these do not come easy, as it means a temporary loss of access to the in-person learning services and gathering spaces the Library is known for providing to so many in our community. However, while our physical libraries may be closed, we will continue to provide the many digital services you can access from home, such as e-books and e-audiobooks, streaming movies and TV shows, homework help and job search resources, digital magazines and newspapers, and more.
We will be in continued contact with the Library Commission to evaluate our response beyond this timeline. All holds on Library materials will remain active and Library materials already checked out can be renewed on our website for your convenience. Titles currently checked out will not accrue late fees while we are closed. All materials currently checked out will been renewed with a new due of Monday, May 4th, 2020. Please do not return checked out titles while we're closed. Additionally, the Library has suspended hold placements on physical materials until we know more about when we will be able to re-open. Thank you for your understanding.
Information about COVID-19 is rapidly changing. We are at an unprecedented moment in our city, state, and country. At this time of uncertainty, MLS is continuing to keep all those impacted by the virus in our thoughts. For those of you who interact with our wonderful staff, please note that we are looking at ways of utilizing their talents during this time and being considerate of their health and well-being.
We are doing everything we can to prevent the spread of illness throughout our libraries and that includes ensuring that we are following recommendations from the Centers for Disease Control regarding social distancing. We look forward to welcoming you back into our buildings when it is safe to do so, so our communities can begin to reconvene and rebuild a sense of normalcy.
We will regularly update this page.
Information about COVID-19 is rapidly changing. We have reached out to the Oklahoma City-County Health Department and we will follow guidance from our local, county, and state health experts.   For the most up-to-date information, please visit the Centers for Disease Control and Prevention. For up-to-date information about Oklahoma, visit the Oklahoma State Department of Health's Coronavirus Response page. 
Access the Library from Home
Your library has plenty of online tools for all ages - including e-books, e-audiobooks, databases, streaming music, movies, TV series and more.  Access all this and more with your library card no matter where you are.
Now is the perfect time to join one of the library's active reading programs.  The 1,000 Books Before Kindergarten reading program encourages parents and caregivers to read 1,000 books by the time the child reaches kindergarten.  In Spring into Reading reading challenge read 20 minutes a day until April 30th. Log 6 hours for a chance to win an iPad or tote bag full of books.  
Get access to library services, collections, research and online learning sources wherever you are!  Get help from Ask a Librarian, explore online training through Lynda.com, learn a new language, research your family history, and more.
Preventative Measures and Information