About Hispanic Latinx Heritages Month
Celebrated from September 15 through October 15, National Hispanic Heritage Month honors the cultures and contributions of Hispanic and Latinx community. This year we are celebrating with a variety of virtual programs for all ages. Join us for music, culture and stories from Latin America. 
Spotlight on: Sonia De Los Santos
Celebrate Hispanic & Latinx Heritages Month with virtual performances and programs from 2019 Latin Grammy nominee, Sonia De Los Santos. She has been hailed by Billboard as "one of the Latin Children's music artists you should know" and "Best Latin Children's Music".
View Upcoming Performances
Play Lotería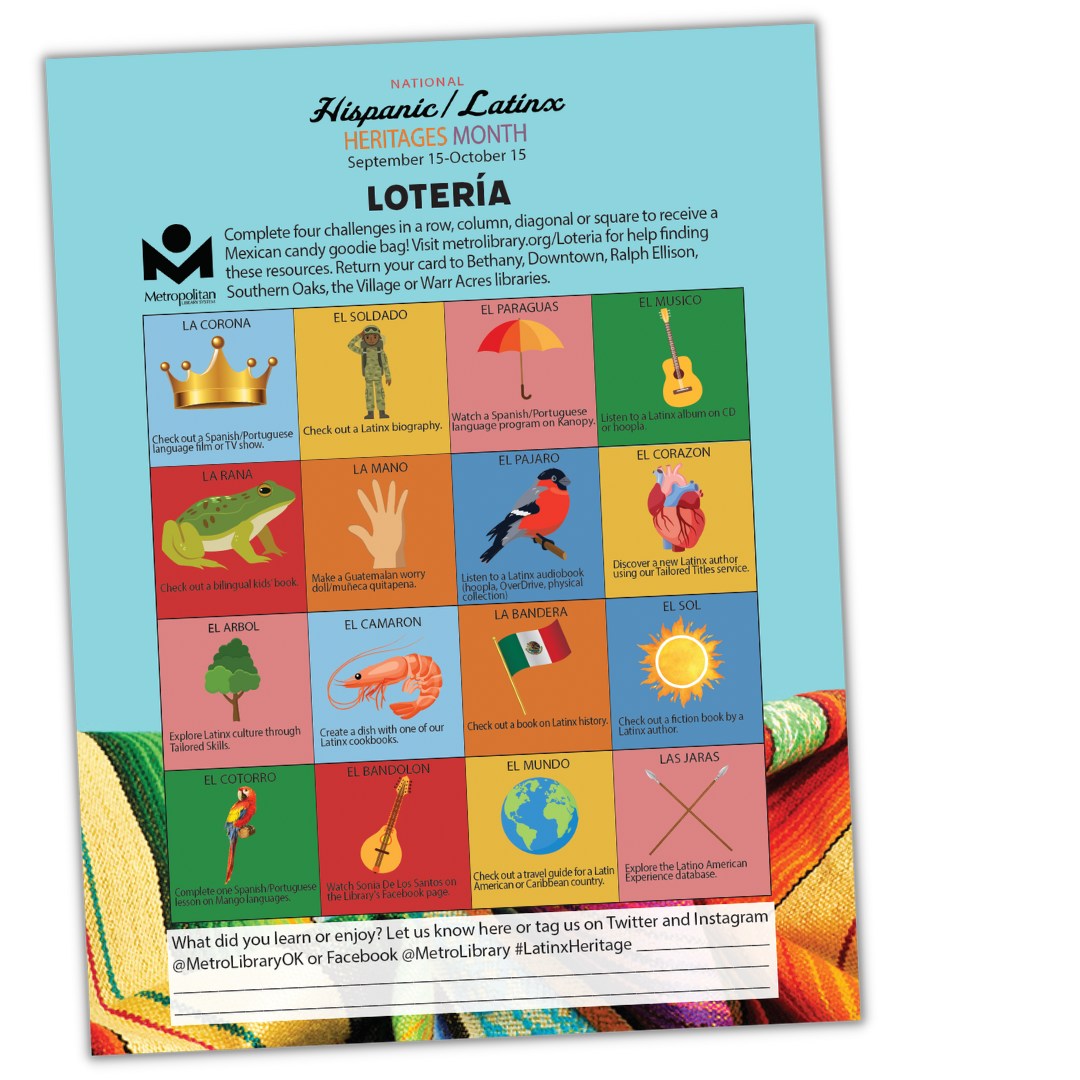 Lotería (Spanish word meaning "lottery") is a traditional game of chance, similar to bingo. Complete four tasks in a row exploring Latinx culture and library resources. Return your card to Bethany, Downtown, Ralph Ellison, Southern Oaks, the Village or Warr Acres libraries.
Play Lotería
What's Latinx?
We are including "Latinx" in our celebration this year to be more inclusive of Indigenous peoples, non-Spanish speakers from Latin America, the LGBTQS2+ community and others who may be left out when using the term "Hispanic". The word "Hispanic" will still be used because it reflects the identities of many people in our community. We are also using "Heritages" to acknowledge the multicultural/multiracial heritages within the Hispanic/Latinx community. This change is in line with our core value of equity, diversity and inclusion. Other libraries across the country are moving to Latinx Heritage Month, including San Francisco Public Library and the University of Massachusetts, while LA Public Library is using Latino Heritage Month.
Hispanic Latinx Heritages Month Library Resources
Download a Hispanic Heritage Month Activity Guide
Archived Hispanic Latinx Heritages Month Programs
Celebrate Hispanic Heritage Month with a virtual visit with children's author, Rebecca Balcárcel. She will share memories and photos from her bi-cultural upbringing, the real life that inspired her Pura Belpré Honor winning book The Other Half Of Happy, plus how she became a writer and a glimpse of the road to publishing. The Other Half of Happy is always available on ebook for check out through Hoopla.