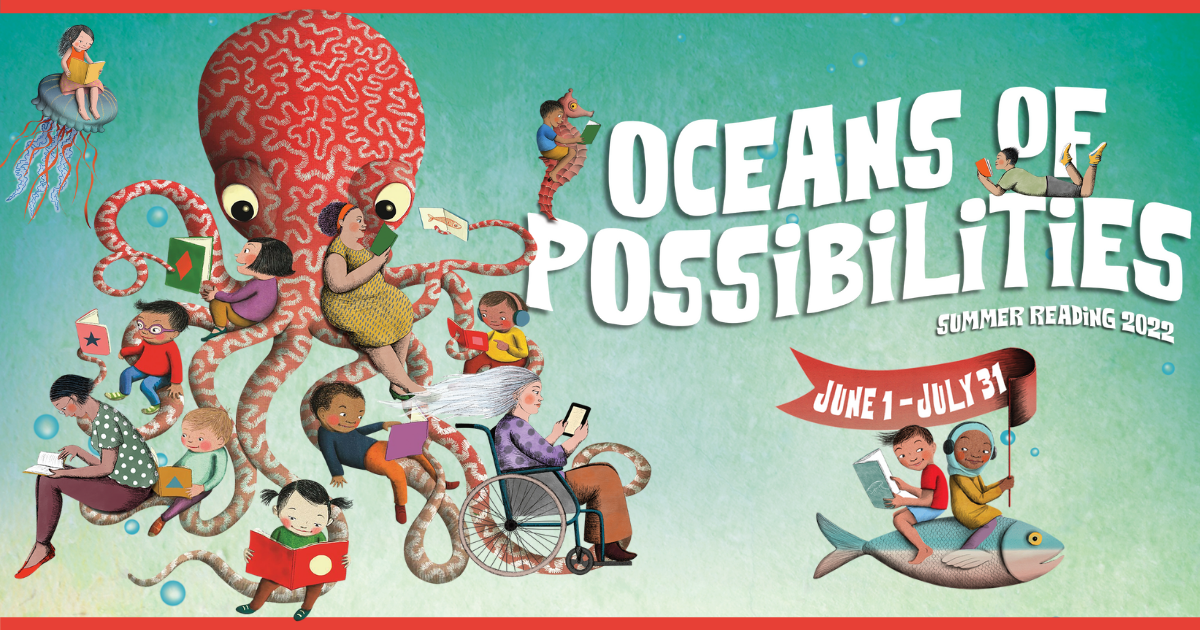 What is the Summer Reading program?
Every summer for more than eighty years, the Metropolitan Library System has offered a Summer Reading program to keep kids and their families reading all summer long. We believe reading is a fundamental skill and a gateway to success in life. Summer Reading is a community tradition that promotes reading for fun and lifelong enrichment. We create a motivational framework for learning for all ages during the summer.
Online Training for Educators
Ready to take your learning about the Summer Reading program up a notch?  Complete our online Summer Reading Training for educators for a chance to win a prize pack for your school or classroom.
Summer Reading PROMOTIONAL TOOLS
How do students participate?
Sign in or Register for an Account on Beanstack
By visiting our online summer reading software students can login with their account information from previous years. If students are new to summer reading, you can create a login for them!
If students would like to be eligible for drawing prizes, please encourage them to list their library card on their account when signing up.
Register for this year's program
After signing in and creating a Beanstack account, students will need to register for this year's Summer Reading program. If students do not register, they cannot log reading, earn badges and prizes, or be eligible for prize drawings. Students must register each year to participate in the current Summer Reading program.
Log reading minutes and activities to earn badges and prizes.
Receive prizes at 600 points.
Continue logging to earn more points.
Scroll down to learn more about this year's prizes
No Internet Access? No Problem
Students can keep track of the time spent reading through a paper log or remembering which days they read and for how long. Visit with a library staff member to help enter information into his/her online log.
Sign Students Up for Summer Reading
Hello Teacher! 
Thank you so much for helping us spread the message of the Metropolitan Library System Summer Reading program.  We have created a letter template you can print and supply to parents and caregivers of your students.  Below are the steps for setting up an account on our Beanstack software: 
Click the I am registering myself button. 
Use the following information to fill out the information for the student on the registration form:

First Name & Last Name
Username — please use the following naming convention:  firstname.lastname (e.g., Jon Smith would be jon.smith)
Password and Confirm Password — use the student ID number for the password
Do you have a library card? 

If you are a ONECard school (OKCPS), select Yes, I already have one.   

In the Library Card number field, enter the student's Student ID number.  Their Student ID is the card information they would use to get access to books at Metro Library.  It is important for your school district statistics to have data in the Library Card number field. 

If you are not a ONECard school, select Not right now.  I may get one later or don't have it handy.

Which is your primary branch? — Select the library closest to your school  
What year you were born? — Add the student's birth year
What grade level are you in? — Add the grade the student is currently enrolled.  Do not add the grade they will be in this fall.
What school do you attend? — Select your school
Uncheck the Yes, send me recommendations via email checkbox. 

Once you've finished adding the student's information, double-check to ensure every required field has content.  Hit the Next button.
Record the student's Username & Password on this template.
Send a copy of the letter with the username and password home with the student for the parent/caregiver.  
Watch a Quick Tutorial for Setting Up an Account
Below are printable activity and time logs for students.
| | | |
| --- | --- | --- |
| English Reading Logs | Spanish Reading Logs | Activity Logs |
| | | |
OKCPS & Metro Library Beanstack Accounts Can Connect
We are happy to announce Oklahoma City Public Schools signed up as an institutional client with Beanstack, the company we use for our reading programs. This means all OKCPS students automatically have Beanstack accounts and can link their school Beanstack account with the library's Beanstack site. 
Here is what you need to know: 
OKCPS and Metro Beanstack accounts must be manually linked by customers, library or school staff assisting customers. 
The next time Beanstack student/parent users login to their account, they will have the option to opt in to linking their library & OKCPS school accounts. 
Logged reading will then count for both programs. 

When OKCPS students are logging reading for school this summer, they will have the option of logging for our Summer Reading program as well. 
Download Instructions for Linking Beanstack Accounts
Summer Reading Prizes
Prizes for All Ages
600-point badge
Completion certificate
Your choice between:

2 children's books*
2 teen books*
1 adult book*
or Metro Library navy sunglasses*

Entry in random gift drawing if library card is on Summer Reading account
*While supplies and selection last
Prize pickup begins in June. Visit your neighborhood library to learn how to select and redeem your prizes. The last day to pick up prizes is Monday, August 15, 2022. 
Note:  prize selection and availability vary by location.
July Prize Drawings
 
Early Childhood
Children, Teens, & Adults
Prize



Water Play Set




Amazon Kindle Fire Tablet

Qualification Criteria

Metropolitan Library System library card holder in good standing  (must list library card number on Summer Reading account)
Earned a 600 Point Badge by July 31, 2022

Metropolitan Library System library card holder in good standing  (must list library card number on Summer Reading account)
Earned a 600 Point Badge by July 31, 2022

Number of Winners
19
57
Drawing Date
Wednesday, August 3, 2022
Wednesday, August 3, 2022
Grand Prize Drawing
 
Early Childhood
Children, Teens & Adults
Prize



Prize Pack and Play Sets

Apple iPad or Apple iPad Pro

Qualification Criteria

Metropolitan Library System library card holder in good standing  (must list library card number on Summer Reading account)
Earned a 600 Point Badge by July 31, 2022

Metropolitan Library System library card holder in good standing  (must list library card number on Summer Reading account)
Earned a 600 Point Badge by July 31, 2022

Number of Winners
1
3
Drawing Date
Monday, August 2, 2021
Monday, August 2, 2021
Teen Volunteers
Do you have students who are looking for volunteer opportunities this summer?
Search no more! Students can be involved at their library through our virtual volunteer opportunities! Summer volunteering helps young people gain job training and work experience, develop skills including self-motivation and taking initiative. Additional tasks covered by teen volunteers:
promoting summer reading
preparing craft items
creating social media content
Volunteer Signup
Teen Volunteer Advertisement
Link to share with parents, caregivers, or special adult in a child's life:
https://www.youtube.com/shorts/Jf9iz709Euk
Summer is Coming!
Summer is almost here and that signals the arrival of the one thing kids everywhere look forward to – summer vacation. It's the time when children and young adults have fun just being a "kid" and can't wait for summer camp, pool time, family time or vacation. But one thing you may not be aware of during the summer is the "Summer Slide."
The Summer Slide isn't a new feature at the local park or splash pad. No, the Summer Slide is what happens between school years when kids do not read or otherwise work to retain what they learned in school.
On average, children lose approximately two months of their reading achievement if they do not read during the summer. They typically score lower on standardized tests at the end of the summer than they did on the same test at the beginning of the summer. And these few months of reading loss accumulate over the years. By the time kids reach middle school, those who haven't read during the summers may have lost as much as two years worth of achievement!
The good news is the Summer Slide can easily be prevented.
 
How do I prevent the Summer Slide?
Reading for just 20 minutes a day, helps kids maintain the reading skills they developed during the school year. Not only will it help them stay on track when school starts back, but with reading they can experience a summer of adventure by stimulating their imaginations.
Signing up for the Summer Reading Program is the best way for your child to keep reading over the summer. Summer Reading starts June 1 and continues through July 31.
Have your children pick out their own books and take the books with them everywhere they go: road trips, the doctor's office, grandma's house. Listen to audiobooks at night or in the car. Listening to audiobooks or listening to someone read aloud benefits everyone. Reading aloud helps build vocabulary skils while listening builds vocabulary and listening comprehension skills, and also increases our knowledge.
Adults can model lifelong learning by participating in the program with their children, grandchildren, neighbors, friends. Help your children prevent the Summer Slide by reading 20 minutes a day this summer! Sign up, track your reading, and earn incentives.
Whether you visit relatives, enjoy a week at camp, or have a staycation at home, make summer even more fun by reading a little everyday!
More ways to beat the Summer Slide!
Read every day. Read non-fiction, fiction, eBooks, poetry, or newspapers or read out loud for at least 20 minutes a day!
Cook with your children. This is one of the best ways to integrate math, reading and following directions. Help your child put together their favorite recipes in a cookbook or let your child design the menu for a meal.
Plant a garden. Your child will learn responsibility and take pride as they watch their plants grow and thrive.
Take a field trip. Head out to a museum, zoo or local park with walking trails. Keep a journal about your travels.
Learn a new word each week. Hang it on the fridge and see who can use it the most times throughout the week.
Enroll in our summer reading program as it will provide your child with opportunities to build their critical thinking skills.
Play quick games with flashcards like Math War or Concentration to keep math skills sharp.
Listen to audiobooks during your summer road trip.
Take pictures and make a summer scrapbook. Encourage your children to write narratives to accompany the pictures.
Make time to read. We can't stress it enough: if your child does nothing else this summer, make sure they read!
Adapted from Stephanie Jefferson, founder of Little Scholars (www.littlescholars.com).